Are you looking to improve your revenue marketing efforts? If so, you're not alone. Many businesses are constantly striving to improve their marketing campaigns in order to drive more revenue and growth. But with so many different elements involved in revenue marketing, it can be difficult to know where to start.
That's where the revenue marketing periodic table comes in. This innovative infographic includes all the crucial elements needed for successful revenue marketing, including core revenue marketing areas, data analysis, marketing channels, the sales funnel, buyer personas, and branding.
By using the periodic table as a guide, businesses can streamline their marketing efforts and achieve better results.
In this article, we'll explore:
So if you're ready to take your revenue marketing efforts to the next level, keep reading!
Why revenue marketing is essential
We won't go into the finer details of what revenue marketing is and why it's so important. We've got a guide for that, which you can read at your leisure.
What we will say, is that the State of Revenue Marketing 2022 report showed that 52.8% of survey respondents said they either had a revenue marketing function at their organization or were planning to introduce one within the next six months of the year.
💡
By enrolling in our
Revenue Marketing Certified: Core
course, you'll gain access to expert-led lessons and hands-on practices that'll equip you with a rock-solid foundation of marketing knowledge, empowering you to increase your customer base, boost sales, and take your business to the next level.
The fact that over half of the survey respondents reported having or planning to introduce a revenue marketing function at their organization within this time frame suggests that revenue marketing is becoming increasingly important for businesses.
By establishing a dedicated revenue marketing function, companies can better measure and optimize their marketing efforts to drive revenue growth and improve overall business performance.
The growing interest in revenue marketing also indicates a shift in the way businesses approach marketing. Traditionally, marketing has been viewed as a cost center, with a focus on brand awareness and lead generation.
However, with the rise of digital marketing and the ability to track and measure marketing activities more effectively, businesses are starting to recognize the potential for marketing to drive revenue and contribute directly to the bottom line.
This underscores the need for organizations to prioritize revenue-generating marketing activities to remain competitive and achieve sustainable growth. But how can they do this effectively? Well…
Introducing the revenue marketing periodic table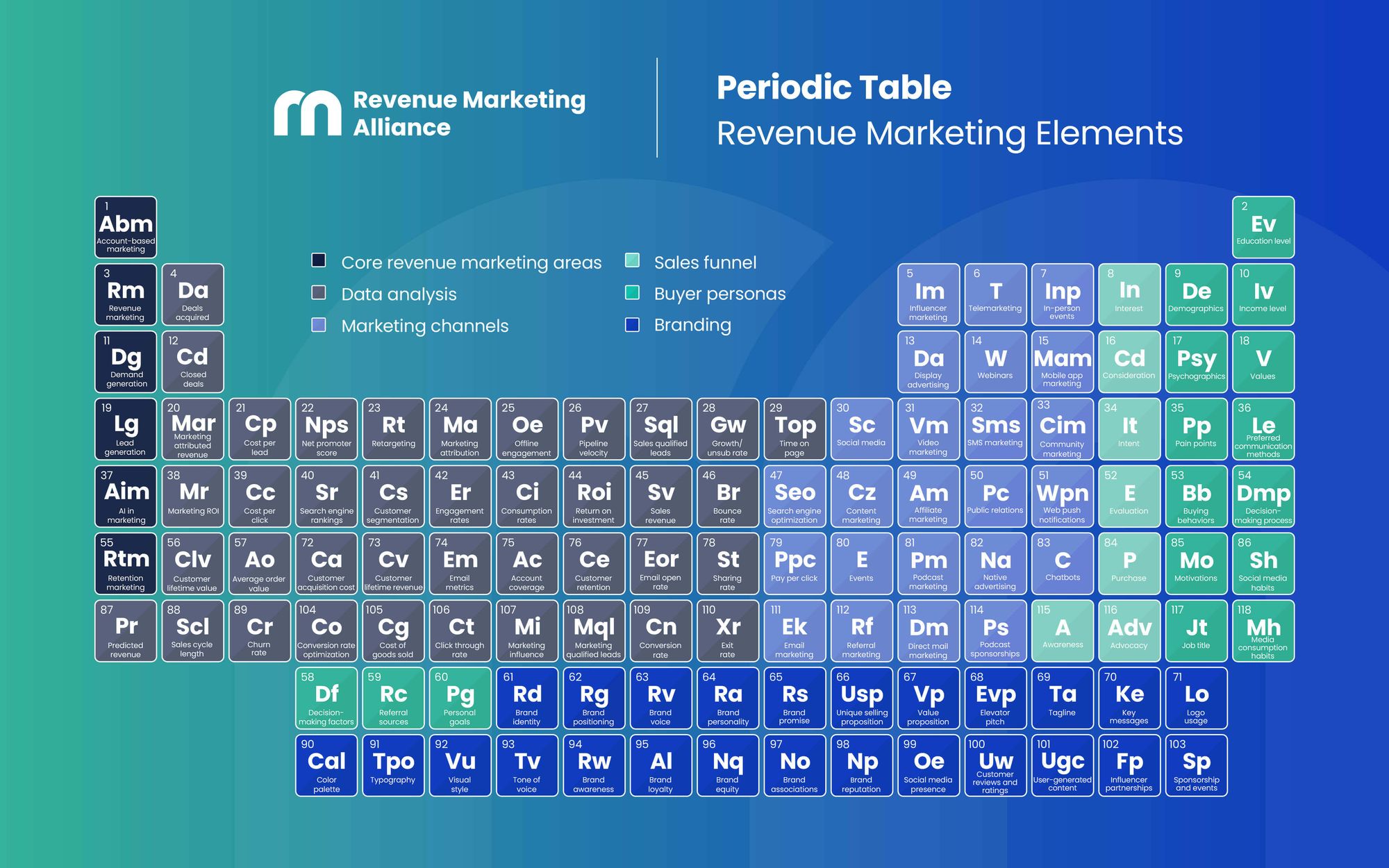 Just as the periodic table is a fundamental tool in the field of chemistry, the revenue marketing periodic table is a fundamental tool in the field of marketing and achieving revenue growth.
It's a visual representation of the various components that contribute to a successful revenue marketing strategy. You can use this as a framework to help you understand the different elements that make up an effective revenue marketing program and how they fit together.
Like the periodic table, the revenue marketing periodic table is divided into sections, with each section representing a different category. These are:
Core revenue marketing areas
Data analysis
Marketing channels
The sales funnel
Buyer personas
Branding
Within each category, there are specific tactics, strategies, methods, key performance indicators (KPIs), and so on, you can use to your advantage as a revenue marketer.
Let's take a closer look at how it's broken down, shall we?
Core revenue marketing areas
There are six core areas we focus on at Revenue Marketing Alliance based on research of the most searched and successful topics. These are:
These are key aspects of the revenue generation process, from attracting potential customers to retaining them over the long term.
Account-based marketing
Account-based marketing is focused on targeting high-value accounts and tailoring marketing efforts to their specific needs and preferences.
By understanding the key decision-makers and influences within these accounts, you can create highly targeted marketing campaigns that are more likely to result in conversions.
Revenue marketing
Now why wouldn't this be a part of the table?! Revenue marketing focuses on driving revenue growth across the customer journey. By taking a data-driven approach to marketing, you can optimize your efforts for maximum impact.
Demand generation
Demand gen is the process of attracting and engaging potential customers through various marketing channels, such as content marketing, email marketing, social media, and advertising.
By creating compelling campaigns that address the needs and pain points of their target audience, you can generate demand for your products or services.
Lead generation
Lead gen involves identifying and engaging potential customers who've expressed interest in your product or service.
By creating targeted campaigns that capture the attention of these leads and encourage them to take action, you can generate a steady stream of new business opportunities for your organization.
AI in marketing
Artificial intelligence is increasingly being used in marketing to automate processes, analyze data, and personalize marketing campaigns at scale. By understanding how AI can be used to optimize marketing efforts, you can stay ahead of the curve and drive better results for your business.
Retention marketing
Retention marketing involves engaging and retaining existing customers by providing exceptional customer service, personalized experiences, and ongoing value.
By focusing on retention, you can reduce customer churn and increase customer lifetime value, which can have a significant impact on the bottom line.
Data analysis
Data analysis is another core part of revenue marketing - so much so, it needed a category of its own for the periodic table. It can be used to provide invaluable outlooks into customer behavior which can then be used to inform marketing strategies and drive overall revenue growth.
Using data analysis as a revenue marketer is also beneficial for identifying trends and patterns, measuring return on investment (ROI), personalizing marketing campaigns, and improving the overall customer experience.
Below is a list of all the different elements of data analysis. Choose which metrics are most important for you to measure based on the outcome you're looking for, and go from there.
Expand for data analysis elements
Pr - Predicted revenue
Da - Deals acquired
Cd - Closed deals
Mar - Marketing attributed revenue
Mr - Marketing ROI
Clv - Customer lifetime value
Scl - Sales cycle length
Cp - Cost per lead
Cc - Cost per click
Ao - Average order value
Cr - Churn rate
Nps - Net promoter score
Sr - Search engine rankings
Ca - Customer acquisition cost
Co - Conversion rate optimization
Rt - Retargeting
Cs - Customer segmentation
Cv - Customer lifetime revenue
Cg - Cost of goods sold
Ma - Marketing attribution
Er - Engagement rates
Em - Email metrics
Ct - Click through rate
Oe - Offline engagement
Ci - Consumption rates
Ac - Account coverage
Mi - Marketing influence
Pv - Pipeline velocity
Roi - Return on investment
Ce - Customer retention
Mql - Marketing qualified leads
Sql - Sales qualified leads
Sv - Sales revenue
Eor - Email open rate
Cn - Conversion rate
Gw - Growth/unsub rate
Br - Bounce rate
St - Sharing rate
Xr - Exit rate
Top - Time on page
Marketing channels
Utilizing different marketing channels within your revenue marketing strategy is crucial because they provide a means of reaching your potential customers, then aiding in driving revenue growth.
There are a multitude of different channels you can use to your benefit, which'll help you reach the audience you want. Plus, with different marketing channels, you can expand your targeting capabilities by focusing your efforts on specific segments which'll increase engagement and conversions.
You'll also be able to diversify your marketing efforts and mitigate the risk of change in customer behavior or shifts in the marketing landscape due to constantly changing trends.
Below are the different types of marketing channels you can focus your efforts on to optimize your campaigns for maximum impact.
Expand for marketing channel elements
Seo - Search engine optimization
Ppc - Pay per click
Ek - Email marketing
Sc - Social media
Cz - Content marketing
E - Events
Rf - Referral marketing
Im - Influencer marketing
Da - Display advertising
Vm - Video marketing
Am - Affiliate marketing
Pm - Podcast marketing
Dm - Direct mail marketing
T - Telemarketing
W - Webinars
Sms - SMS marketing
Pc - Public relations
Na - Native advertising
Ps - Podcast sponsorships
Inp - In-person events
Mam - Mobile app marketing
Cim - Community marketing
Wpn - Web push notifications
C - Chatbots
The sales funnel
The sales funnel provides a framework for understanding the customer journey, which is essential to optimizing your marketing efforts and driving revenue growth.
Take a look below at the different stages of the funnel to get a better understanding of where your prospects are in the sales cycle.
Expand for the sales funnel elements
A - Awareness
In - Interest
Cd - Consideration
It - Intent
E - Evaluation
P - Purchase
Adv - Advocacy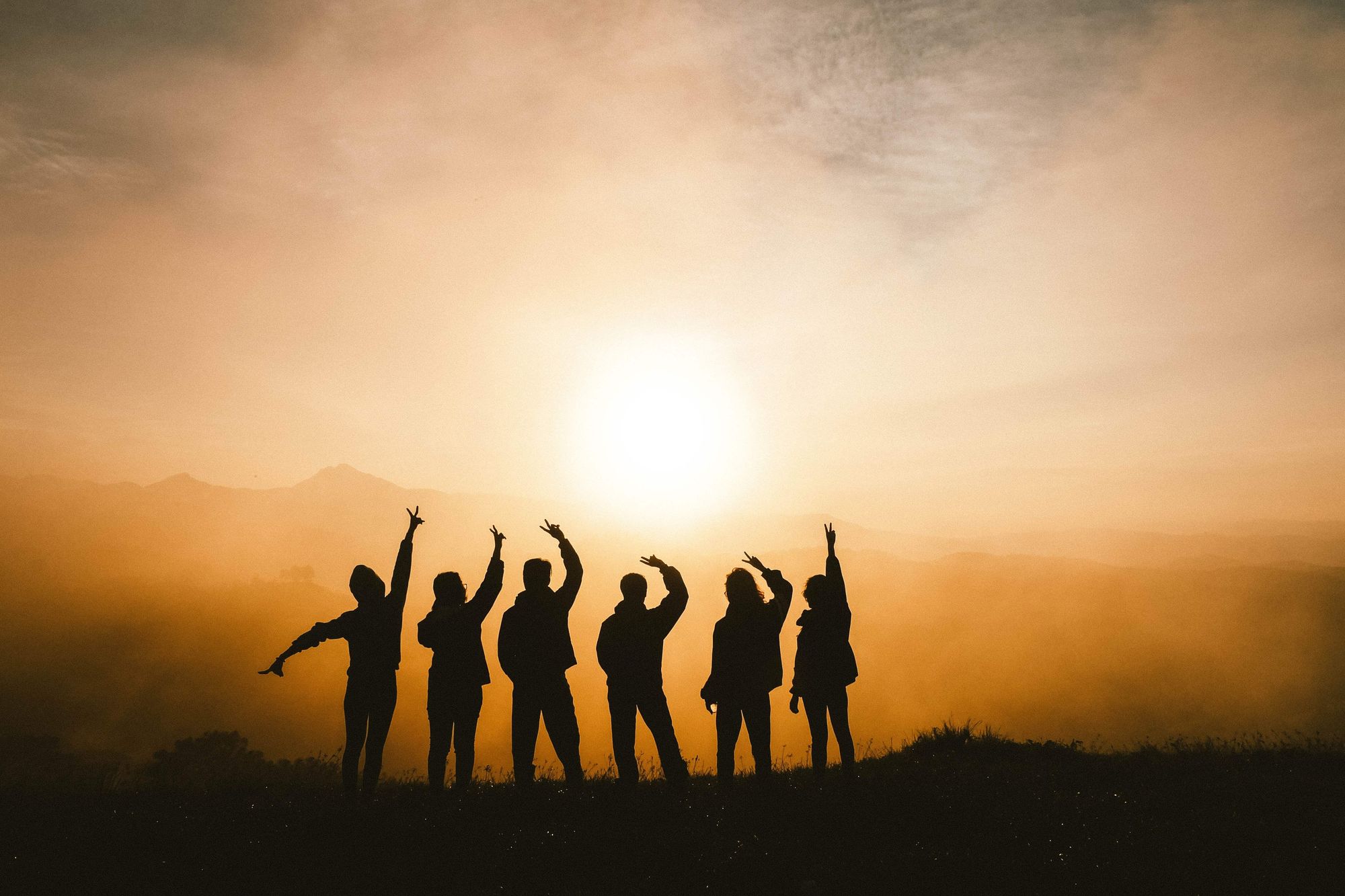 Buyer personas
Buyer personas are important because they provide a clear understanding of who your target audience is, allowing you to develop targeted marketing strategies and campaigns that resonate with them.
They also help to personalize marketing messages and campaigns to their specific needs and create content that connects better to specific segments' interests. All of this'll then work to build stronger relationships with your customers over time, increasing the likelihood of engagement, conversions, retention, and then ultimately, overall revenue.
Take a look below at the kind of things you can add to your buyer personas to make sure they're optimized for maximum impact.
Expand for buyer persona elements
De - Demographics
Psy - Psychographics
Pp - Pain points
Bb - Buying behaviors
Mo - Motivations
Jt - Job title
Ev - Education level
Iv - Income level
V - Values
Pcm - Preferred communication methods
Dmp - Decision-making process
Sh - Social media habits
Mh - Media consumption habits
Df - Decision-making factors
Rc - Referral sources
Pg - Personal goals
Branding
Branding is incredibly important for any business, but particularly for driving revenue growth. This is because it helps to differentiate your company or product from your competitors, build trust and credibility with your potential customers, and create a strong emotional connection with your target audience.
It's also essential for maintaining consistency across all of your marketing efforts.
When a company has a strong brand identity that is consistently communicated across channels, it helps to reinforce the core product messaging and value proposition - this makes it much more likely that potential customers will understand and resonate with your brand, then increasing the likelihood of revenue growth.
Below are the elements we've included within the table that amalgamate into successful company branding. Have you thought about each of these elements when it comes to your organization's brand?
Expand for branding elements
Rd - Brand identity
Rg - Brand positioning
Rv - Brand voice
Ra - Brand personality
Rs - Brand promise
Usp - Unique selling proposition
Vp - Value proposition
Evp - Elevator pitch
Ta - Tagline
Ke - Key messages
Lo - Logo usage
Cal - Color palette
Tpo - Typography
Vu - Visual style
Tv - Tone of voice
Rw - Brand awareness
Al - Brand loyalty
Nq - Brand equity
No - Brand associations
Np - Brand reputation
Oe - Social media presence
Uw - Customer reviews and ratings
Ugc - User-generated content
Fp - Influencer partnerships
Sp - Sponsorship and events
How to use the revenue marketing periodic table
The revenue marketing periodic table has been created as a framework, so you can identify specific tactics and strategies that are most effective at driving revenue growth, and optimizing your marketing efforts.
Specific use cases for the revenue marketing periodic table
There are many different ways you can use the periodic table to your advantage, but let's just begin with a couple of examples to get you started.
Developing buyer personas that understand your target audience
You can use the table to develop buyer personas that help you better understand your target audience.
By focusing on the "buyer personas" section of the table, you can identify the characteristics, needs, and pain points of your ideal customers, and create targeted marketing campaigns that speak directly to their interests.
For example, you might use data analysis tools to gather information on your target audience, such as their demographics, preferences, and behaviors. Based on this information, you can create detailed buyer personas that help you better understand the specific needs and pain points of your ideal customers.
With this knowledge, you can create marketing campaigns that speak directly to the interests and concerns of your target audience. For instance, you might create blog posts, social media content, and email marketing campaigns that address the specific challenges and pain points of each buyer persona, and provide solutions that address their needs.
Improving brand awareness and reputation
You can use the table to improve your brand awareness and reputation. By focusing on the "branding" section of the table, you can identify the tactics and strategies that are most effective at building a strong brand identity and reputation.
For example, you might focus on tactics like content marketing, social media, and influencer marketing to increase your visibility and reach among your target audience. By using these tactics, you can establish yourself as a thought leader in your industry, build trust with your audience, and ultimately improve your brand reputation.
Download the revenue marketing periodic table
Want the table in poster form? Download the files for free below. If you'd like to share it on any of your socials, we'd appreciate the tag!