Join the RMA Slack community
What's the best resource for revenue marketers? Other revenue marketers of course! You can find a network of them right here, by joining our community of 1,100+ members and counting.
Connect with like-minded revenue marketers from across the globe, learn and grow alongside your peers, ask questions, find job opportunities, see the latest content, and much more...
Join us by filling out this form 👇
More than just a Slack community: unlock the Insider membership
Joining our slack channel isn't just about the conversations; it's a gateway to becoming an Insider member. And oh boy, does that come with perks:
Revenue marketing templates: Streamline your projects with a sample of our ready-to-use templates.
Real-world case studies: Learn from the big guns
Expert-Led Articles: Deep dives into everything from field marketing to demand generation.
Latest stats & insights: Stay ahead of the curve with one-click access to fresh data.
How it works
Step 1: get yourself signed up.
Step 2: activate your Slack account and explore your dashboard.
Step 3: join as many channels as you like - there are many to choose from!
Step 4: if you've got a question, post it in the relevant group. If you've got an answer for someone else's, step in. If you see a gap for a new channel, set it up.
What goes on in the Slack community?
Short answer... a lot!! It would be quicker to list the reasons not to (really, there's no reason not to…) but the benefits include:
❓ #rma-questions: Stuck on a specific challenge or need quick advice? This is your go-to channel for instant feedback and actionable solutions from the community.
📰 #fresh-content: Want to stay ahead of the curve? This channel serves up the freshest content—articles, podcasts, webinars, you name it. If it's new and noteworthy, you'll find it here.
🎉 #events: Never miss an RMA event again! From webinars to virtual summits to in-person meetups, get all the details and RSVP links right in this channel.
🎯 Real Talk, Real Solutions: Got a burning question or a hot topic you're itching to dive into? Head over to the #rma-questions channel. Our community is teeming with marketing maestros ready to share their wisdom.
🌟 Show and Tell: Done something epic? Here's your stage to shine in the #show-and-tell channel. Share your wins, your genius moments, and get the high-fives you deserve.
🔥 Stay in the Loop: Be the first to know about the latest from Revenue Marketing Alliance. Check out the #fresh-content channel for new articles, research, and all the buzz you don't want to miss.
😎 Just Be You: At the end of the day, we're all about good vibes and great conversations. Come for the insights, stay for the camaraderie in the #general channel.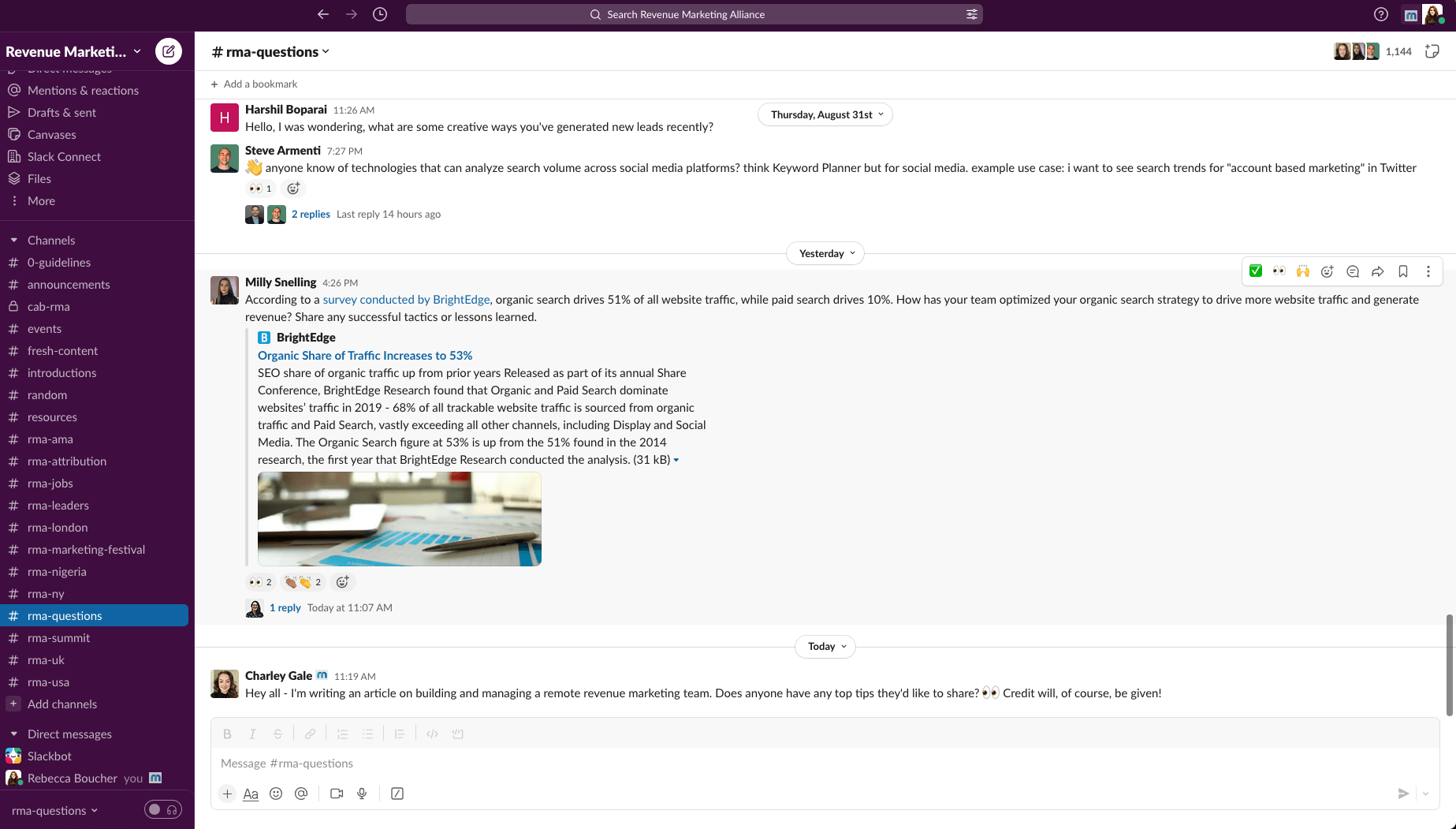 FAQs
How much does it cost to join?
Absolutely nothing and that'll never change. Slack doesn't charge for a free account so neither do we.
How will I access my Insider membership plan?
By simply signing up to the community! By signing up, you'll create you Insider account and from there, you'll have easy access to join the Slack community.
Can I promote my company's products?
Not really, no. Our community is a place for learning and knowledge-sharing, not selling. If there's a conversation going on that's really apt and you think your product would genuinely solve the problem, feel free to mention it but you must be open about your relationship with it.
Can I invite other people to join?
Absolutely. The more the merrier. If they've got something to gain or contribute from in-depth conversations about revenue marketing, then welcome aboard!