If you're new to the world of revenue marketing, you might be wondering just how prevalent the role of 'Revenue Marketer' really is.
As the Revenue Marketing Alliance, it only made sense that we produce a report designed to answer this very question (and loads more!).
Our State of Revenue Marketing report is packed full of data to help you identify where your marketing priorities should lie, what metrics are linked to higher revenue generation, and what kind of tech stack is proving to be the most useful to you, today.
In this preview, we share some of our findings related to the Revenue Marketer role. But you can also download the full report for a more in-depth look at revenue marketing.
What is the revenue marketer role?
As the Revenue Marketing Alliance, we were, of course, curious to know just how many organizations currently have a dedicated Revenue Marketer in their midst. We asked our survey respondents just that.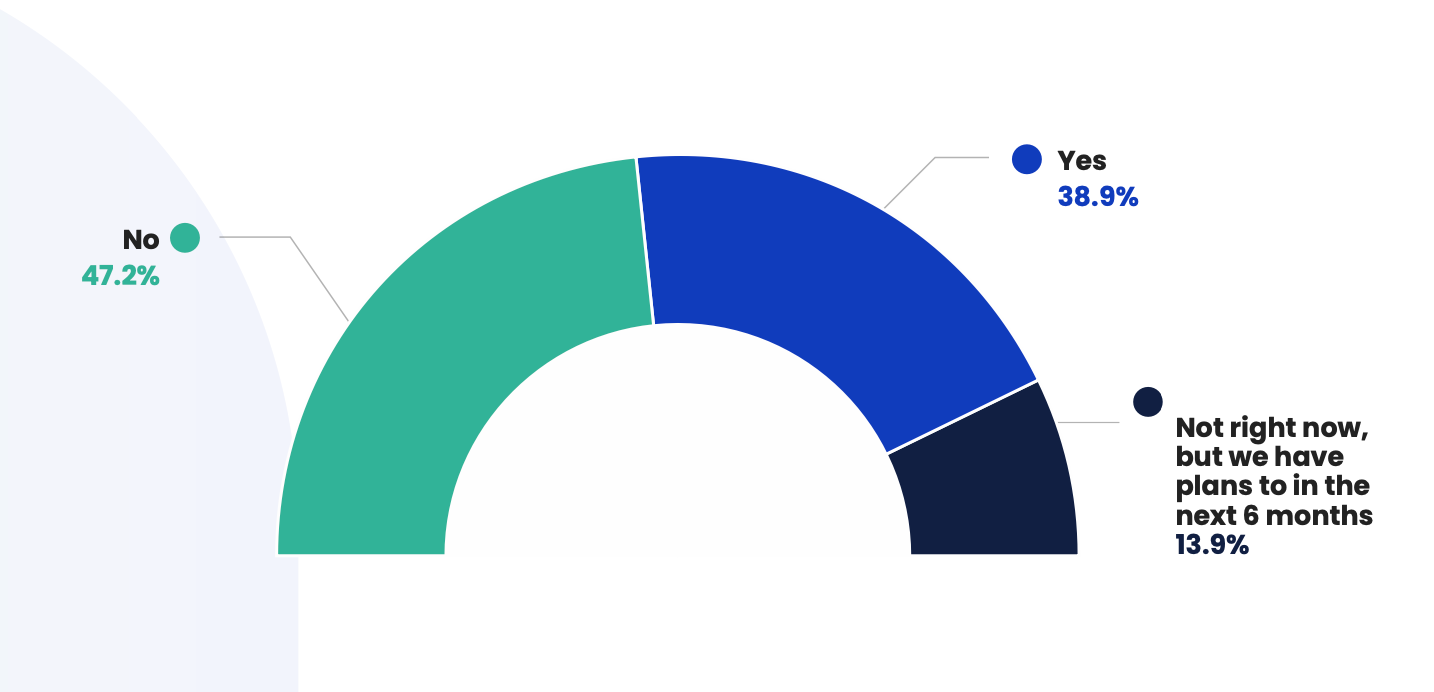 Right now, more respondents said No (47.2%) than Yes (38.9%), but 13.9% claimed that they had plans to introduce that role within the next 6 months. If those projections come to fruition, then we'll likely see a more even 50/50 split between those companies with a revenue marketer, and those without.
As an emerging role, we expect those numbers to continue to rise. So, we're excited to see just how these numbers shift in our future State of Revenue Marketing reports!
Current marketing roles
We wanted to get a sense of what kind of marketing roles (aside from Revenue Marketer) currently exist within our respondents' organizations. Our survey provided a list of potential roles to choose from, and we asked our respondents to select the ones relevant to their company.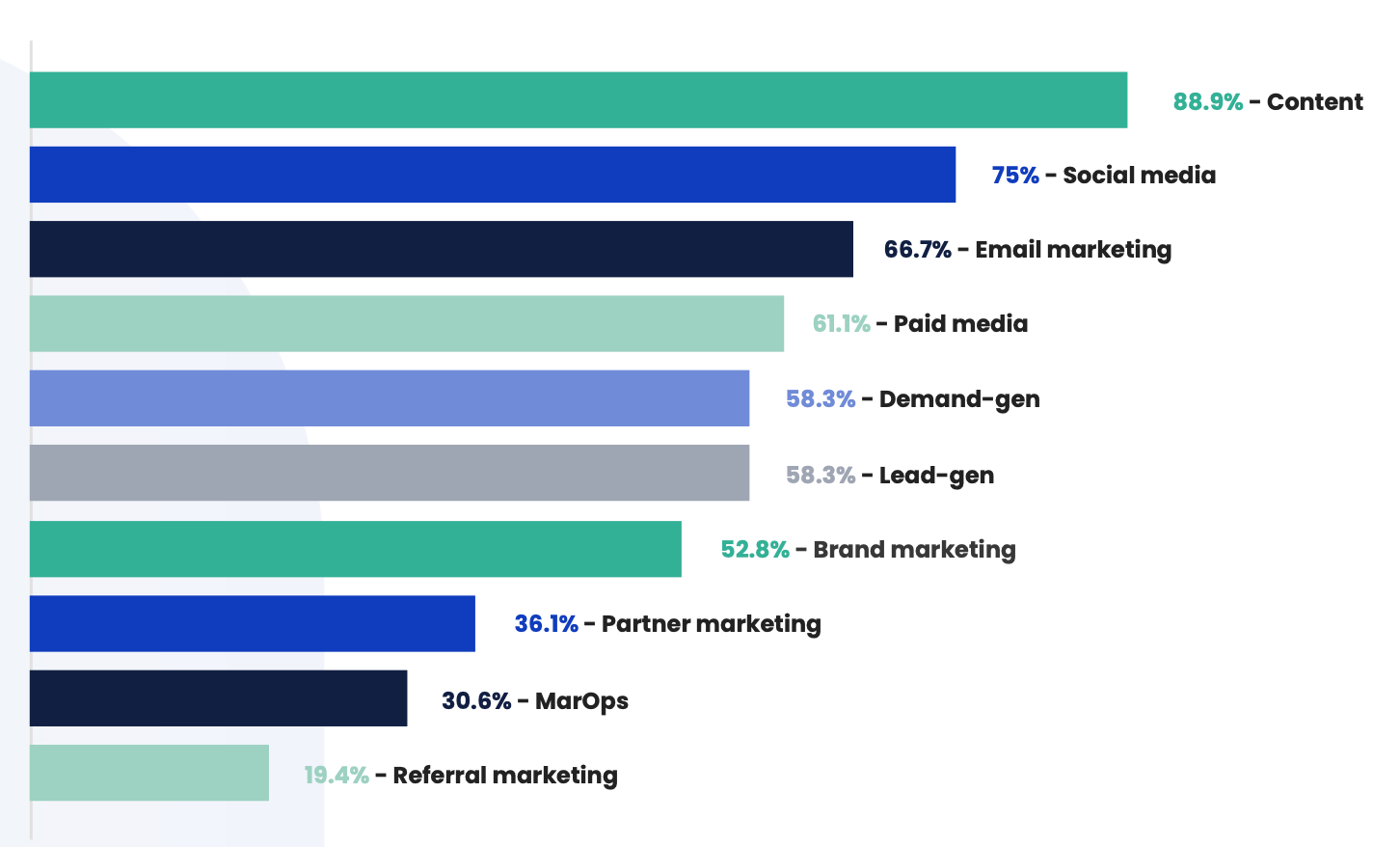 Content came out on top, with 88.9% of respondents stating they have a dedicated role/s in their company. Social media was similarly high with 75%, and Email marketing followed with 66.7%.
We also provided an "Other" option, where the role of Product Marketing, Sales Enablement, and Customer marketing was also cited by some participants.
Top revenue marketing objectives
Revenue marketing is all about linking marketing campaigns to revenue goals and revenue generation. Marketing and sales need to work closely to maximize that ROI and identify the specific channels where marketing can offer the most revenue growth.
That being said, we wanted to know what our survey respondents considered the top objectives of revenue marketing to be. We asked our participants to choose up to three options from the list we provided.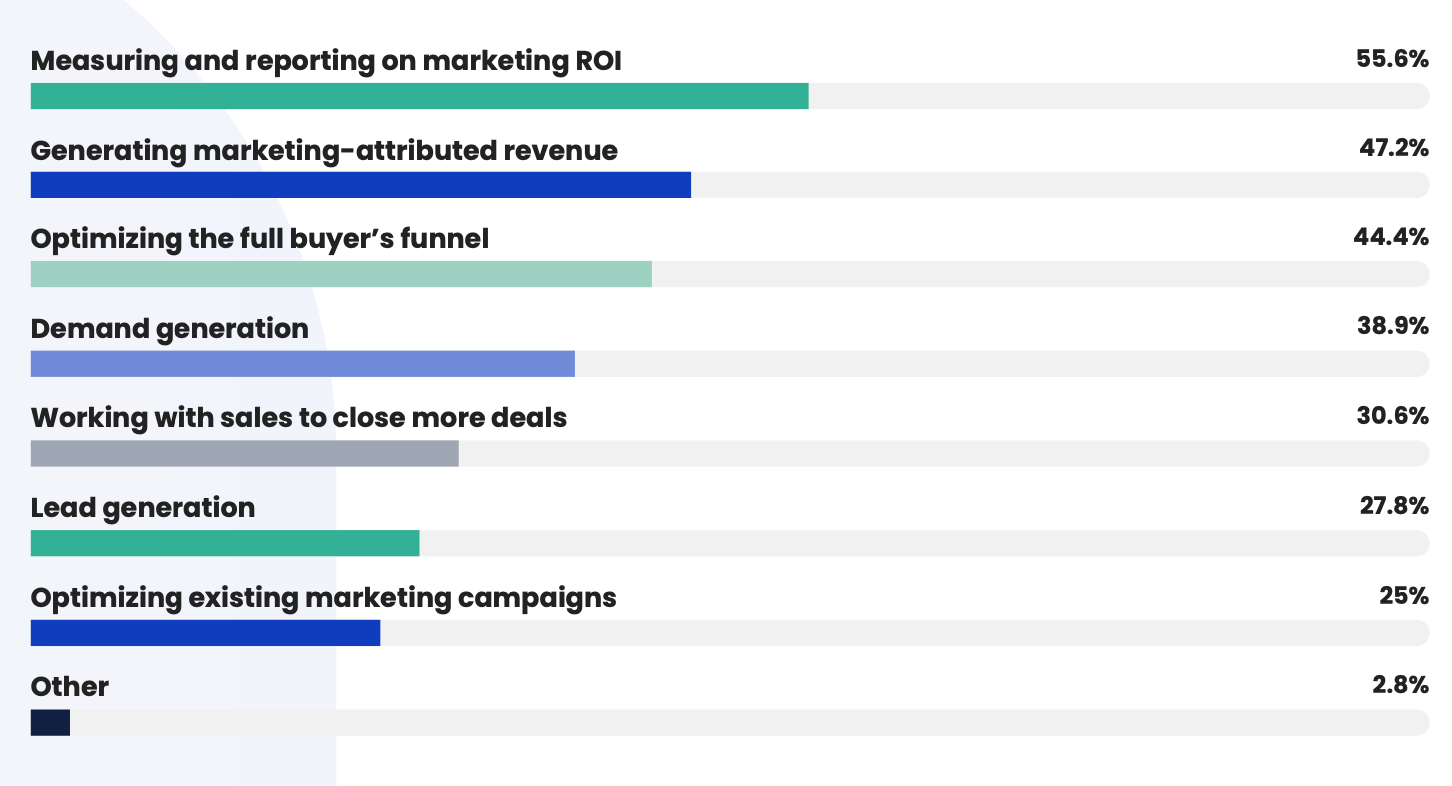 Coming out on top is Measuring and reporting on marketing ROI (55.6%), followed by Generating marketing-attributed revenue (47.2%). So it's pretty clear that the focus for objectives is geared towards using marketing to generate revenue and being able to accurately report that revenue and attribute it to marketing.
Final thoughts
The Revenue Marketer role looks set to only become more prevalent in the future, and top priorities are finding more innovative ways of measuring and reporting on marketing-generated revenue and optimizing the full buyer's funnel.
Want to read the full report?
Interested to read the rest of our findings for revenue marketing in 2022? Download the full report today to discover the current state of marketing and sales alignment, revenue performance projections and challenges, how marketing is attributed to revenue, and what MarTech is currently in use and if it's up to task.

---
By enrolling in our Revenue Marketing Certified: Core course, you'll gain access to expert-led lessons and hands-on practices that'll equip you with a rock-solid foundation of marketing knowledge, empowering you to increase your customer base, boost sales, and take your business to the next level.