Account-based marketing (ABM) is incredibly popular amongst B2B marketers as an effective strategy for targeting and engaging high-value accounts. By focusing on personalized and tailored approaches, ABM allows companies to drive meaningful connections and foster long-term relationships with key decision-makers.
However, to truly harness the potential of ABM, it is crucial to measure and evaluate the results of your campaigns so you can improve your results over time.
In this article, we'll explore:
Best practices for interpreting and acting upon the data collected including:
Or if you'd like to learn more about ABM, you can download our complete ABM playbook right here. 👇

Metrics for measuring the effectiveness of your ABM strategy
Part of any effective marketing strategy is having methods of continually measuring the results. Research from Demandbase and Demand Metric showed that more than half of the respondents, whether new to ABM or not, consider finding the best metrics to show ABM's impact to be a major challenge.
So having clear KPIs is a must for determining how successful your ABM campaign has been.
Your KPIs can take a number of forms, such as increased revenue, brand awareness, customer loyalty, audience growth, win rate, sales length cycle, and many more.
Examples of metrics:

"There are often misconceptions, especially when it comes to ABM, that executing a segmented lead generation program is equivalent to an ABM strategy. And when it comes to tactics like display advertising, there is a focus on legacy-based metrics, like clicks or impressions.
"Looking only at the components of advertising that drive click-through and conversion rates at the lowest cost has always been a flawed approach, right from the start — when digital interactions became trackable, and marketers and media agencies were tasked by their clients to drive direct responses because they were so easily measurable.
"B2B marketers must rethink their account-based sales & marketing strategies, shifting from a flawed optimization model focused on quantity, ratios, and costs to a maximization model focused on efficacy, amplitude, and value."
Michael McGoldrick, Director Of Marketing at MRP
🌟
Hey, guess what? We'll be heading to London in November for the exciting Revenue Marketing Summit. Are you ready for a fantastic blend of networking, valuable insights, and fruitful collaboration?
Get your copy of the brochure
for the full details.
Return on investment
ROI is a vital metric to track, as you need to ensure that your ABM campaign is not costing more than the return from your target accounts. If you've got past data from your marketing and sales efforts, that can really come in handy.
It gives you an idea of what to expect when launching a new campaign, like how much you'll need to spend on average before you start closing deals.
But if you start spending more than the average without getting a good return on investment, it might be time to rethink your approach or focus on different target accounts.
Sales cycle length
ABM has the knock-on effect of shortening your sales cycle. This is because by focusing on the right kind of accounts, you eliminate all those needless, unqualified leads from the campaign before starting the outreach process.
It also ensures opportunities aren't being lost by neglecting accounts that would be a good fit. Compare your average sales length cycle before and after implementing your ABM program to see if marketing activities have decreased the time it takes for sales to convert prospects to closed deals.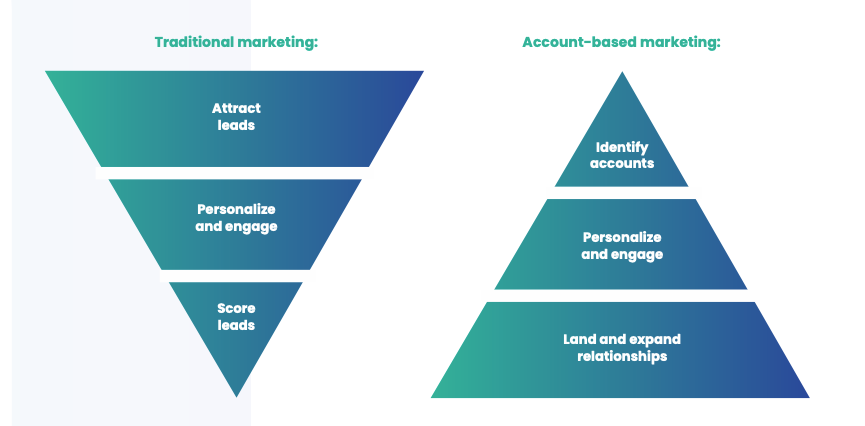 "The metrics that we use to measure the success of our client's ABM programs depend on where there are revenue gaps across the buyer's journey and customer lifecycle.
"ABM should fix business revenue problems as it's about changing the way that go-to-market teams interact with the human buyers in the target accounts we want to win, protect and expand.
"We have clients that have built pipelines with ABM, but they're challenged with accounts going dark, so stage progression is the KPI we want to impact first.
"We have clients that are continually discounting their solutions to compete with others in the market, so the KPIs we want to impact then are deal size and Annual Recurring Revenue (ARR).
"We've had clients that were at risk of losing large accounts like P&G, so our KPI then is account retention. We have clients that lose the C-suite and VP attention after a deal is signed, and they are challenged to expand within business units and regions, so then our KPI is Net Revenue Retention (NRR).
"This is why it is important to first identify the revenue gaps across the buyer's journey and customer lifecycle to see the KPIs and areas you should impact first with ABM."
Kristina Jaramillo, Founder of Personal ABM
MarTech in ABM
As ABM adoption soars, the tech is more important than ever. To execute ABM successfully at scale, it is essential to have a well-coordinated marketing tech stack that enables running ABM programs.
These need to include account selection, planning, engagement, and reporting and integrate seamlessly with your current technology to provide critical information for reaching key decision-makers at your targeted accounts.
The right MarTech tools enable marketers to streamline their campaigns and automate crucial processes while also measuring their success for continuous improvement.

"We have trialed two intent data platforms within a strategic account environment, but we found it difficult to prove consistent outcomes and ultimately, we lacked confidence in the data when it's focused on a single account.
"What we have found extremely useful is the ability to coalesce unstructured customer data into deeper strategic insights about how an existing customer is both acting and thinking about the product and the brand.
"Sources such as product telemetry and social listening allow us to understand actions and underlying sentiments.
"Building AI and ML models that can then identify patterns across the entire customer base allow us to predict how strategic customers will act and how we can apply ABM best practice to shape or disrupt a predicted course of action. This is absolutely critical in preparation for big renewals."
James Mollard, Senior Director of Growth & Strategy at JPC
Final thoughts
Clear KPIs are crucial for determining the success of your ABM strategy. These KPIs can vary, ranging from increased revenue and brand perception to customer loyalty and win rate.
By defining and monitoring these metrics, you can gain valuable insights into the performance of your ABM campaigns and make data-driven decisions to optimize your results.