To expand your marketing knowledge and become a truly well-rounded marketer, you need to be able to use your skills across all marketing channels.
That's where the t-shaped marketer comes in: a marketing expert with a vast range of skills across the different marketing disciplines, able to work collaboratively across the marketing team to achieve their goals.
All t-shaped marketers do have at least one specialty, however, an area where they can draw from a deep well of knowledge, like SEO.
In this article, we'll take you through how an SEO exec can become a t-shaped marketer by expanding their knowledge and experience into other marketing disciplines.
If you'd like to learn more about becoming a t-shaped marketer, download our t-shaped marketer playbook!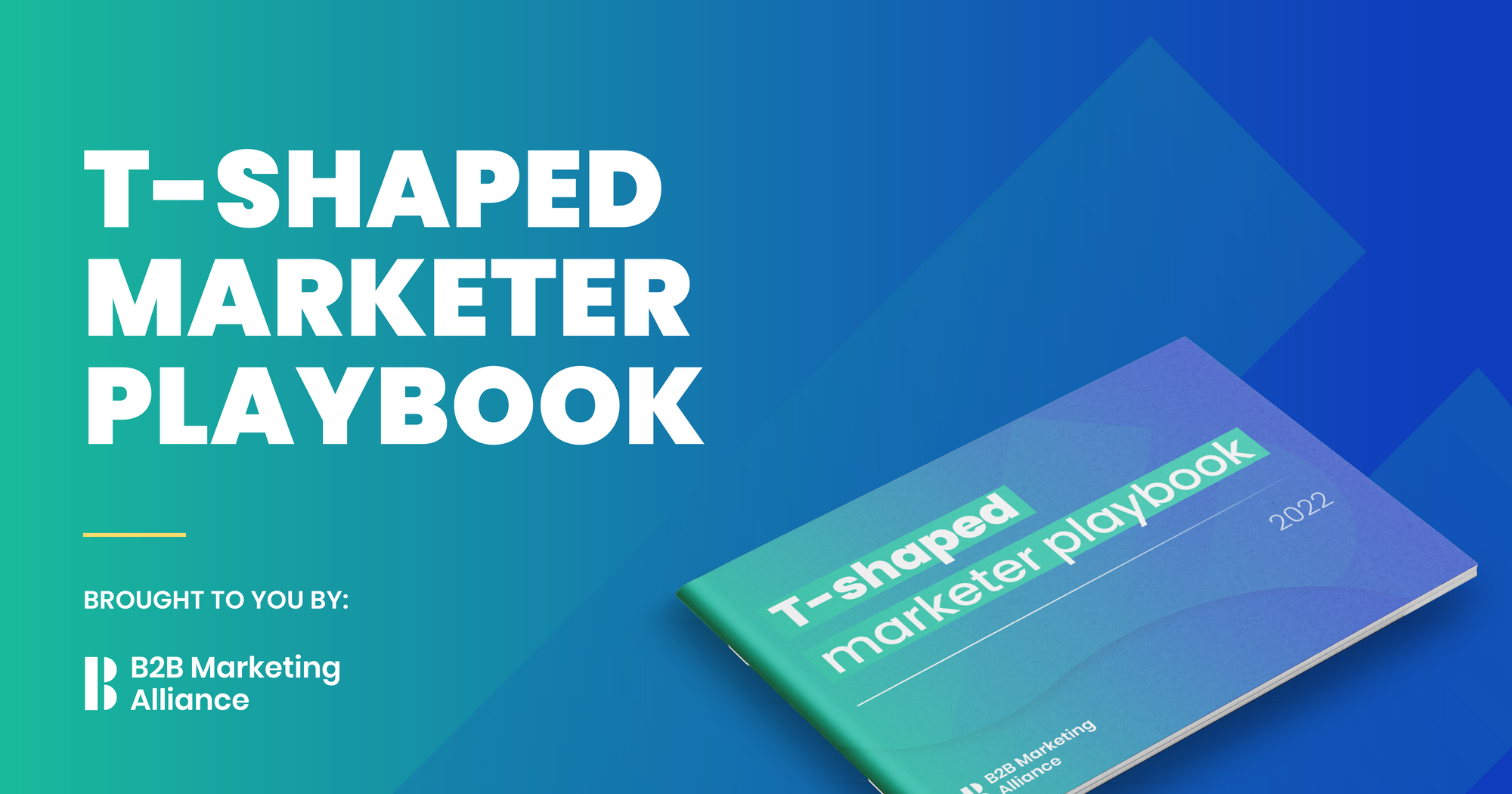 Skills needed to be a t-shaped SEO exec
Search engine optimization is a marketing strategy that helps websites rank higher in search engine results. Around two-thirds of clicks go to the top five results on search engines, so it's crucial for B2B companies to have strong organic visibility online, as it's a proven way to accelerate growth.
A successful SEO strategy aims to put a company's web content in front of audiences actively looking to engage with the products or services they offer. So for B2B, brands need to research and target the keywords likely to be searched by them. The goal of SEO is to increase organic web traffic so you can gain more qualified leads, and this is done in a number of ways such as using effective keywords and providing true value in the content.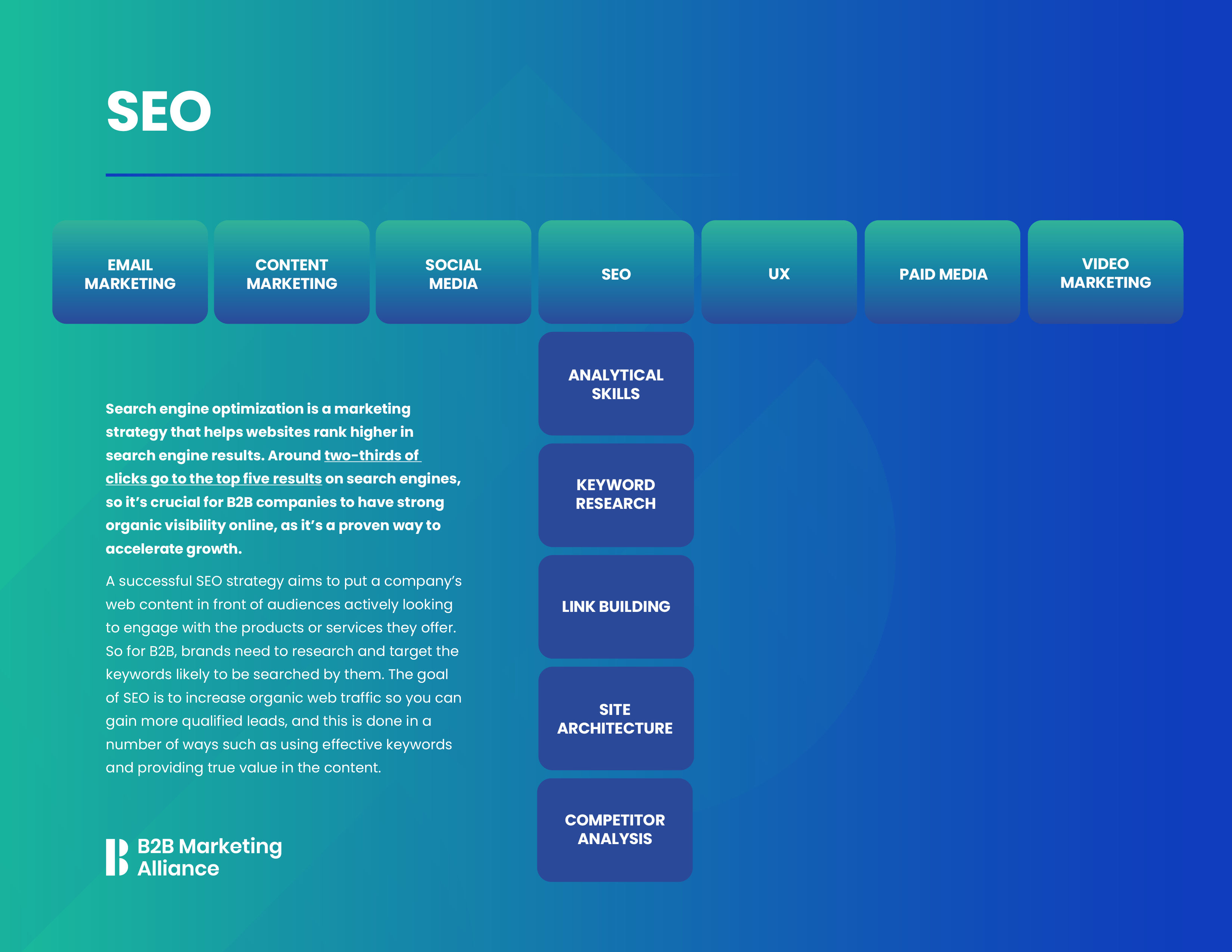 Here are the top five skills you need to succeed as an SEO exec.
Analytical skills
SEO execs spend a lot of their time looking at data pulled from their site, and you need the ability to not only interpret the data but to figure out and understand the "how" and "why" questions that arise.
For example, for any reports on changes in organic traffic, an SEO exec needs to determine which tactics led to the changes and track down any causes for drops in rankings. You need to have an analytical mind that can differentiate between correlation and causation, think critically about what works in a campaign, and consider all the influencing factors that could be impacting a search engine's positioning.
When presented with a lot of data, you'll break it down so you can see the patterns and trends emerge. You need to analyze thousands of keywords so you can take your campaign in the right direction and figure out the best route that will most resonate with the brand's audience.
Practice makes perfect, but using one of the many SEO tools out there can help organize and present the data will help you gain the practical SEO knowledge that helps you get better at analysis.
Keyword research
Keyword research provides crucial insights into what your audience is searching for online so you can develop your overarching marketing strategy. These insights allow you to center your content on the most relevant topics, attract website traffic, and acquire customers.
Conducting keyword research requires you to find what's most relevant for your target audience and ensure that enough people are searching for those terms so you'll pull in enough of an audience to your site.
There are plenty of helpful SEO tools that can tell you the monthly search volume for certain keywords, such as:
These tools can help you gauge how important certain topics are for your audience, so you can choose which keywords to focus on. The key is to find high-value, long-tail keywords that have a good amount of search volume, but not so much that the competition will be too fierce.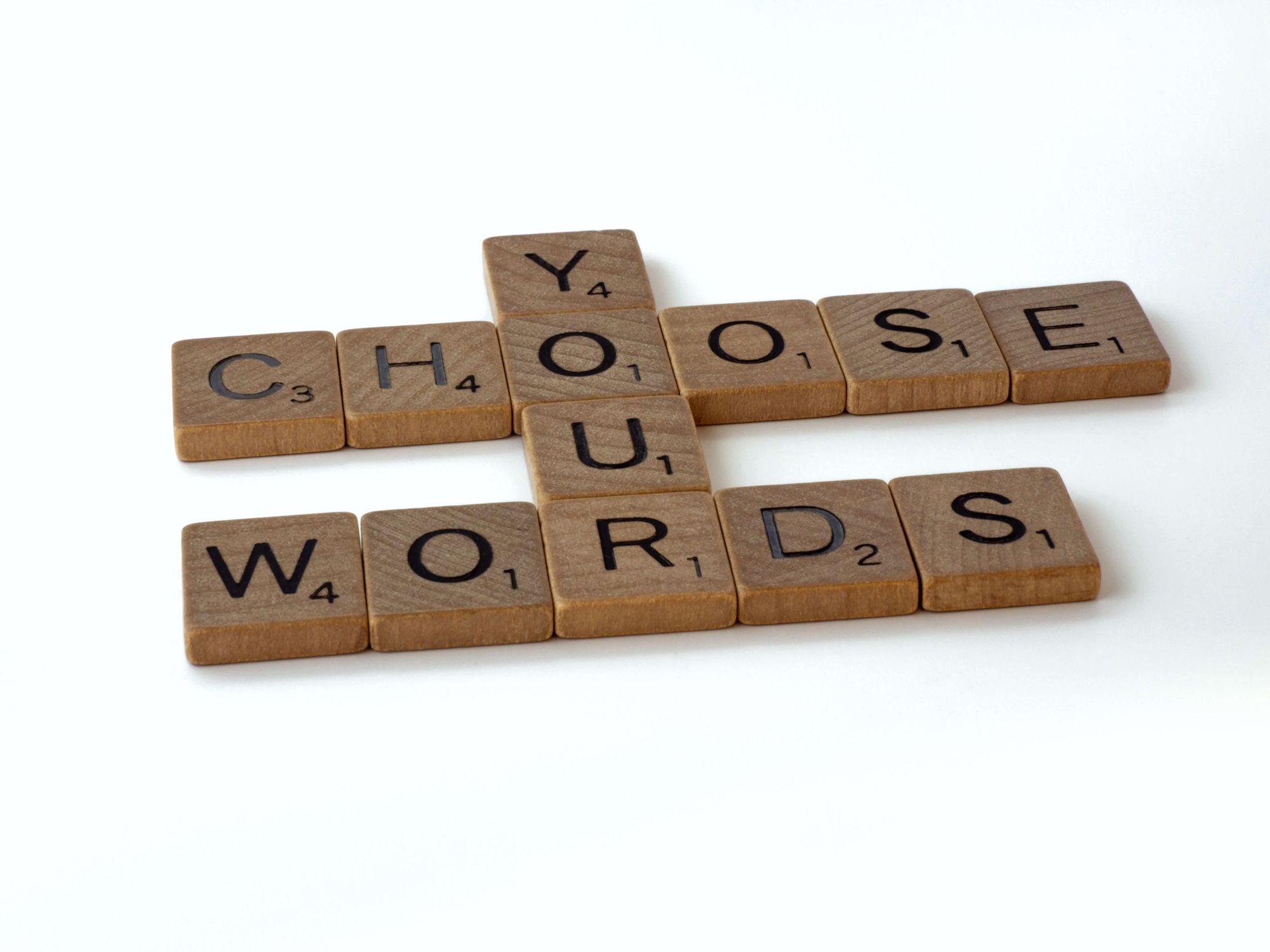 Link building
When search engines are deciding how to rank your site, one aspect they look at is how many backlinks you have (and the quality of those links). When you have many high-quality, authoritative sites linking back to your site, the higher your pages are likely to appear on search result pages.
Link building is an important part of any SEO strategy. To get those backlinks, you'll need high-quality content that is worth linking back to and a link-building strategy.
Social media can also lend a hand, by posting about your brand and actively participating in social media conversations within your niche, you'll increase the chances of people sharing your posts or the links you've shared, helping to generate backlinks.
There are a few techniques for building backlinks:
Outreach can be a time-consuming process, but if you want backlinks from a particular site, you will likely need to contact them directly to make it happen. Just make sure the site is relevant to your brand's niche, is credible and authoritative, and reach out via email to the site owner. Guest blogging in this way will not only lend credibility to the perception of you as a thought leader in your area, but you'll gain those valuable backlinks you need from credible sites and generate leads by driving traffic to one of your dedicated landing pages.
Detailed, well-written content
Long-form, detailed content is far more likely to gain backlinks than shorter pieces without much value. Search engines prefer longer content, and it's a great way to offer true value to readers by producing something like an extensive guide on a particular topic within your niche. These pieces are also known as "skyscraper content", referring to a long, detailed piece of content that covers all aspects of something that attracts other sites to link to your post.
It's quite common for brands to be mentioned across the web but the website in question has not linked back to your site. By using tools like SEMRush's Brand Monitoring Tool, you can find all these existing unlinked mentions, and you can then contact the website owner asking them for the link, resulting in some easy, quick backlinks.
Site architecture
Good site architecture is key for SEO success, as structuring your site in the right way makes it easier for search engines to navigate between the pages, crawl the content, and rank your site higher in search results. A good site structure groups related content together, highlights the important pages, and keeps everything in a simple and logically organized hierarchy.
Understanding how search engines crawl your site is important, but SEO execs also need to understand how users navigate it. The more time organic visitors spend on your site, the better that'll look to search engines like Google, and you'll see a boost in your SEO. So effective architecture needs to factor in both search engines and user needs.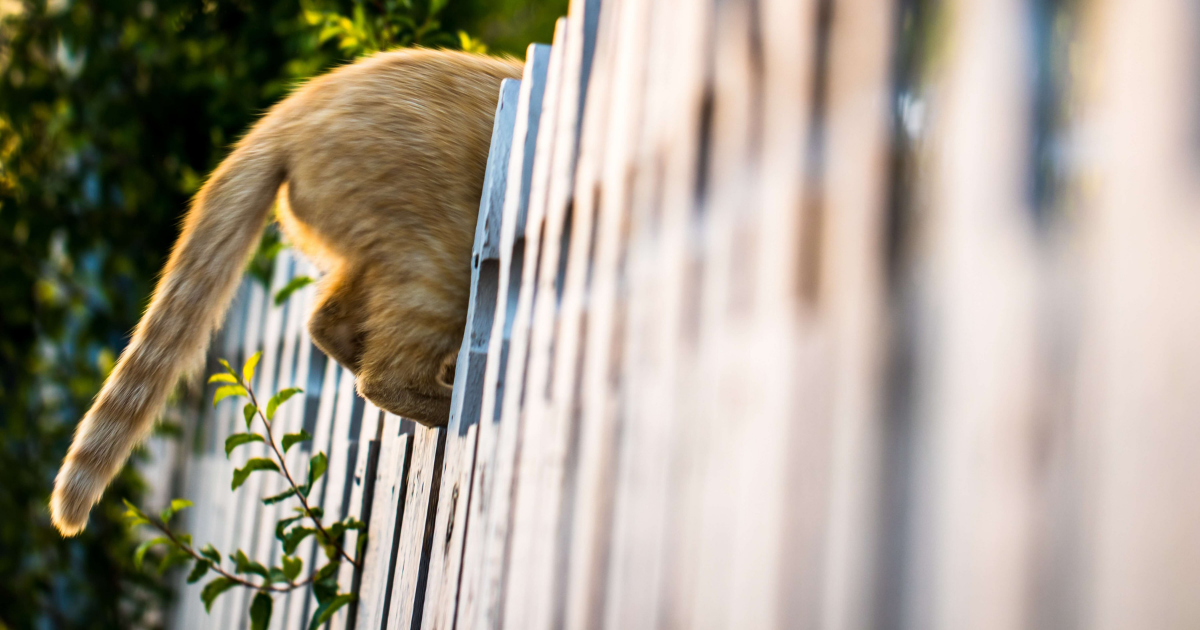 Competitor analysis
Pretty much all brands have a number of competitors ranking at the top of search results for the same keywords. So another job for SEO execs is to regularly perform competitor analysis to understand the strategies being employed by competitors so that you can alter your own SEO strategy to try and rank higher than them in search engine results.
Researching your competitors means looking at elements like their content, backlinks, and keywords, essentially conducting a direct comparison between your site and theirs. It's an effective tool that not only helps you get an idea of where you sit in the market, but can also act as a guide for your own SEO efforts by looking at what others have done.
You can use competitor analysis tools to streamline the process, looking at a competitor's top-performing pages and breaking down which keywords they're using with a keyword gap analysis, so you can see what they're ranked for that your site is not. You can also perform a backlink analysis to see where your competitors are getting their backlinks, so it'll be easier for you to create a similar strategy to implement for your own site.
How SEO impacts other forms of marketing
As a t-shaped SEO marketer, you'll have all the necessary skills for a successful campaign. However, you'll need to engage with other areas of marketing and utilize your transferable skills, so you can support your fellow marketers in your overarching company goals.
Email
SEO and email have similar goals: to drive visitors to your website and convert those visitors into sales. But there are ways to combine the two and attract the right kind of audience.
When you send emails out promoting your high-quality and SEO-optimized content, you're building a bridge between that email and your website. Email can help promote SEO content, encourage social shares, and even gain backlinks.
As an SEO exec, you can provide your email marketing team with the relevant keywords they need to boost their email strategy. You can make suggestions for the most optimized subject lines to increase email open rates, and your high-value content will encourage more click-throughs.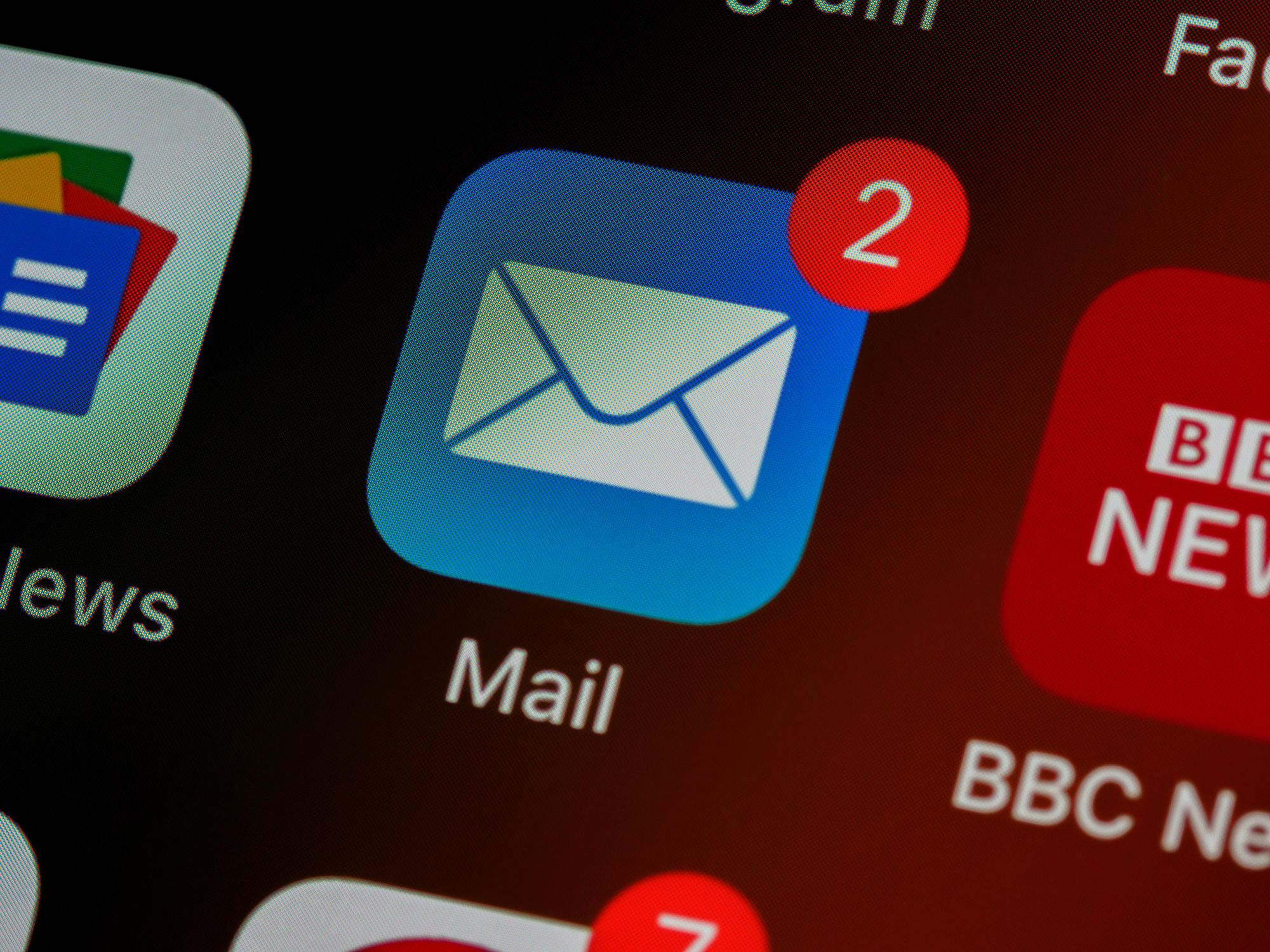 Social media
As social media becomes more prevalent, social networks are turning into valuable search engines, so an effective SEO strategy needs to consider how social media can play a role. Social media posts and profiles can be crawled by search engine spiders for indexing, so they can be found by people searching for relevant content. So LinkedIn bios and articles can easily rank on search engine results page. Additionally, social media can help your website content get indexed faster, such as if a blog post gets a lot of attention on your platforms.
Social media can also provide a lot of weight to a website's authority, giving your page domain a boost that helps it rank above sites with less authority. So much web content is distributed on social media that your influence on social platforms directly impacts your website's authority level. So as an SEO exec you need to factor your brand's social media presence into your overall strategy.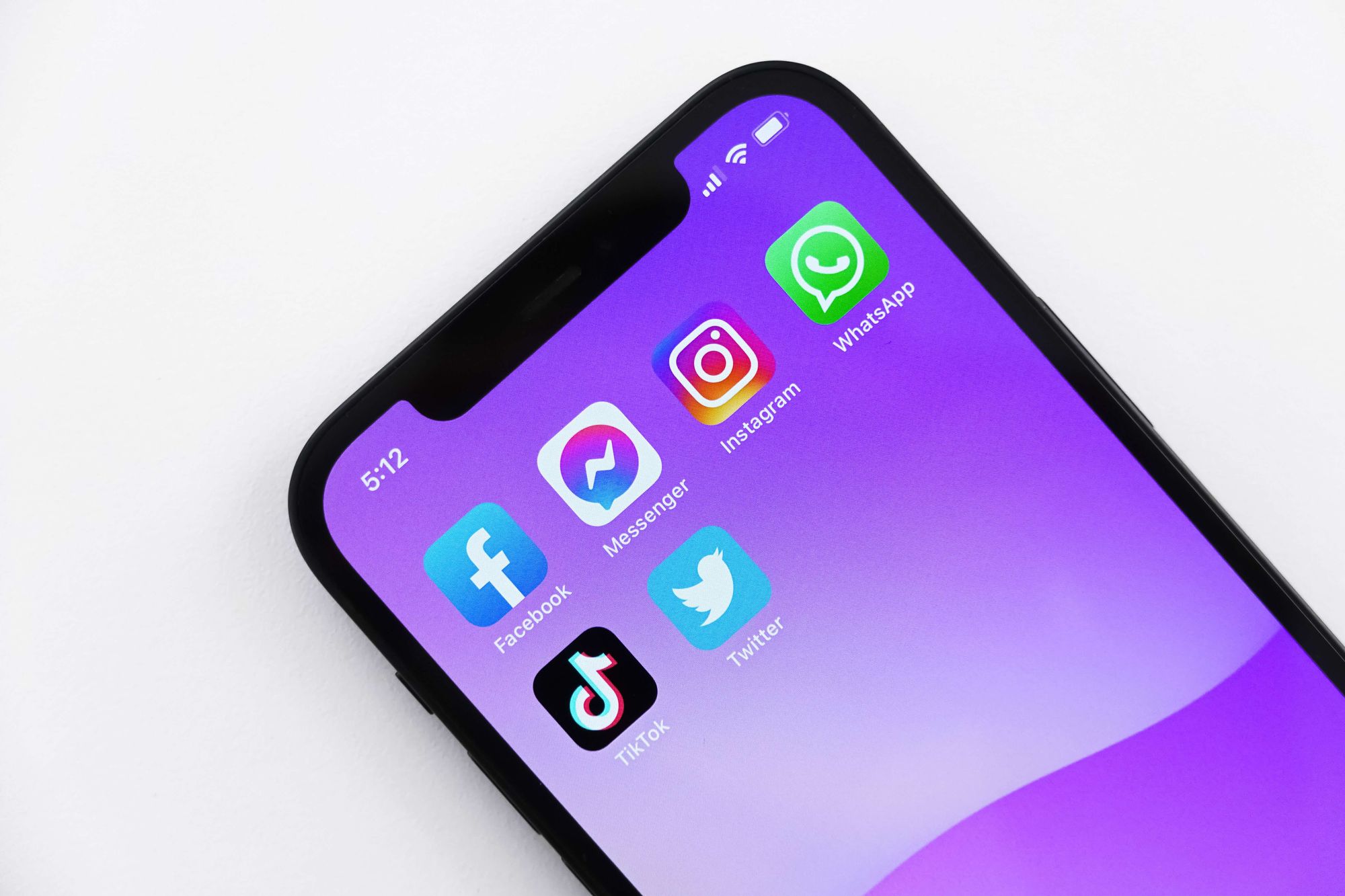 Content
Content is a great way to engage with site visitors, and SEO heavily relies on content copy to boost the website's search engine rankings organically. As an SEO exec, you need to be well versed in both content creation and distribution so you can support the ideas of your content writers and add value for search engines and users.
Skills like keyword research and being able to identify content gaps are places where these marketing teams overlap. You can provide keyword guidance to your content team and help optimize their content for featured snippets by providing questions that your audience is asking that can be answered in the content.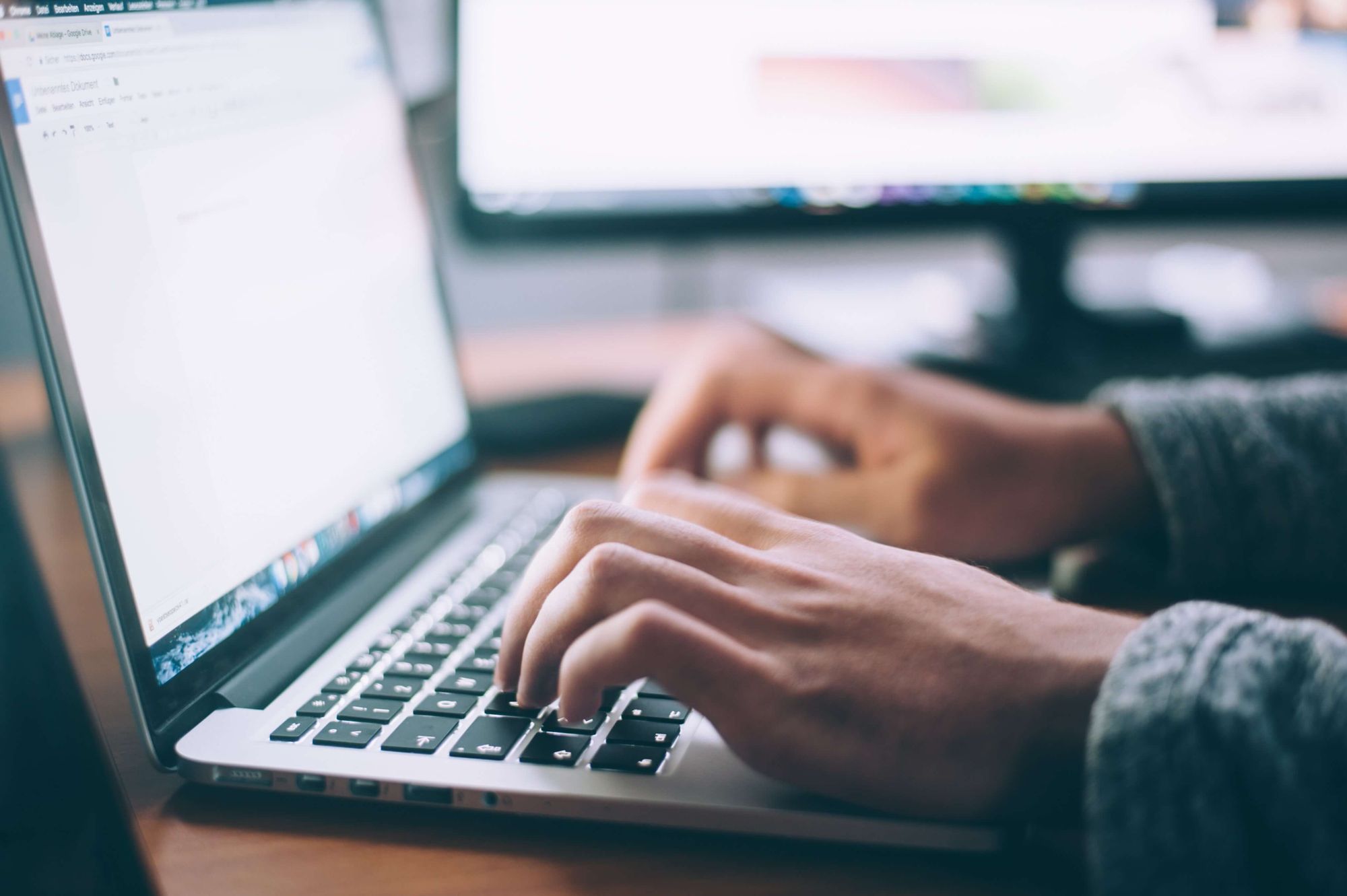 UX
SEO focuses its efforts on search engines, whereas UX designers deal with user needs, but these two share the common goal of wanting to provide users with the very best experience online. Search engines consider UX as a factor for page rankings, and SEO strategies need to consider how the site experience is a positive one for its generated traffic. From the site navigation to the quality of the content, everything related to UX can impact your SEO strategy.
The use of headings on a webpage helps users and search engines identify the logical hierarchy of content and interpret the page's primary focus. A site's architecture is also important for search engines, as clean, straightforward site navigation can lead to site links appearing in search results. This goes double for mobile experiences, with every element of your mobile website impacting both user experience and SEO.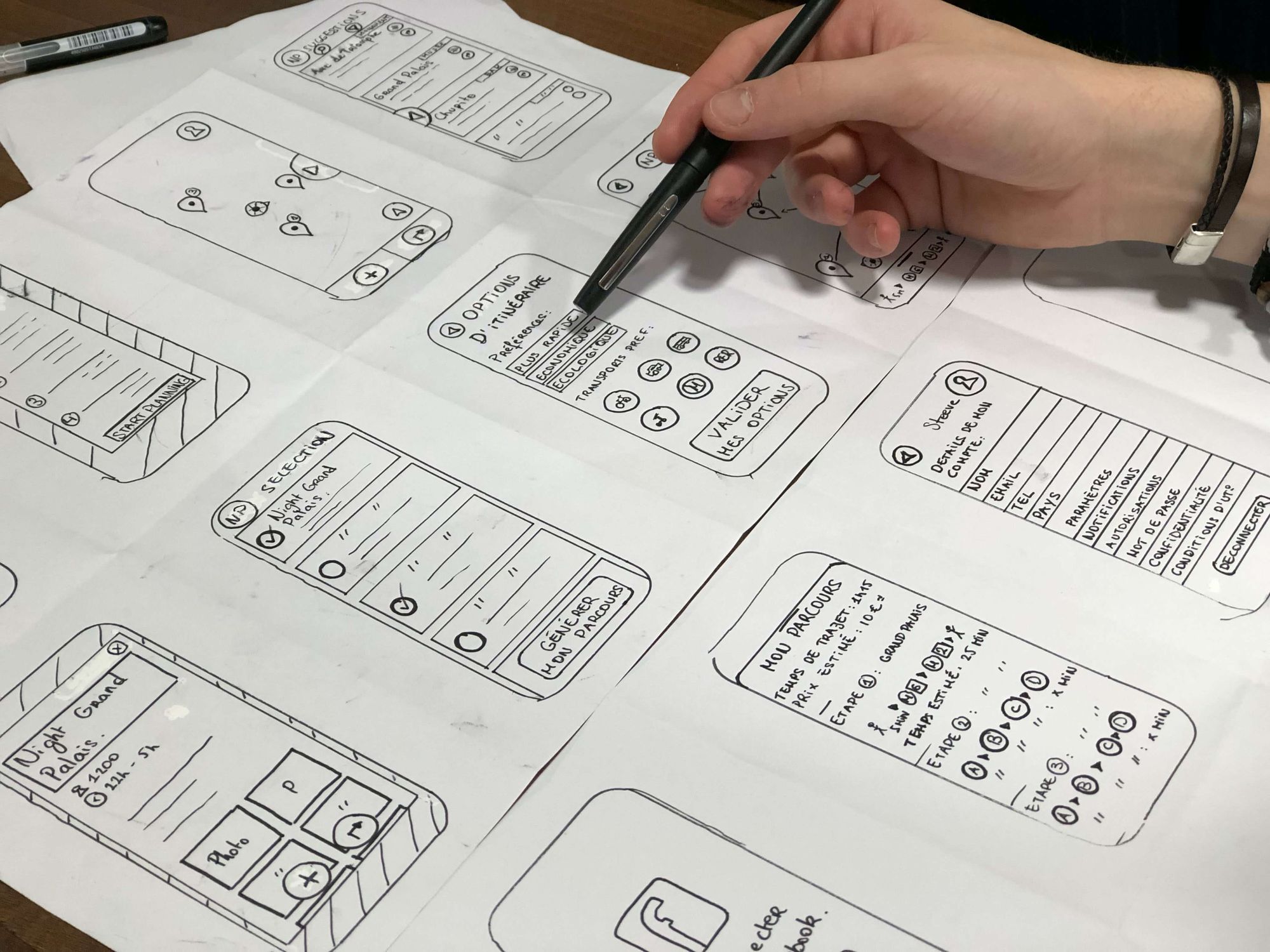 Paid media
Paid media targets users searching for keywords related to your company, and pairing this with your SEO can provide a cohesive strategy. Both rely on keywords, but switching up your SEO keywords by testing new ones can take time to yield results, so PPC ads can test them more quickly and easily, and you can then incorporate the successful ones into your SEO campaigns.
Paid media is also a quicker way of testing how different messaging connects with different keyword intents, as you can split test ad copy easily to see which resonates better with your audience.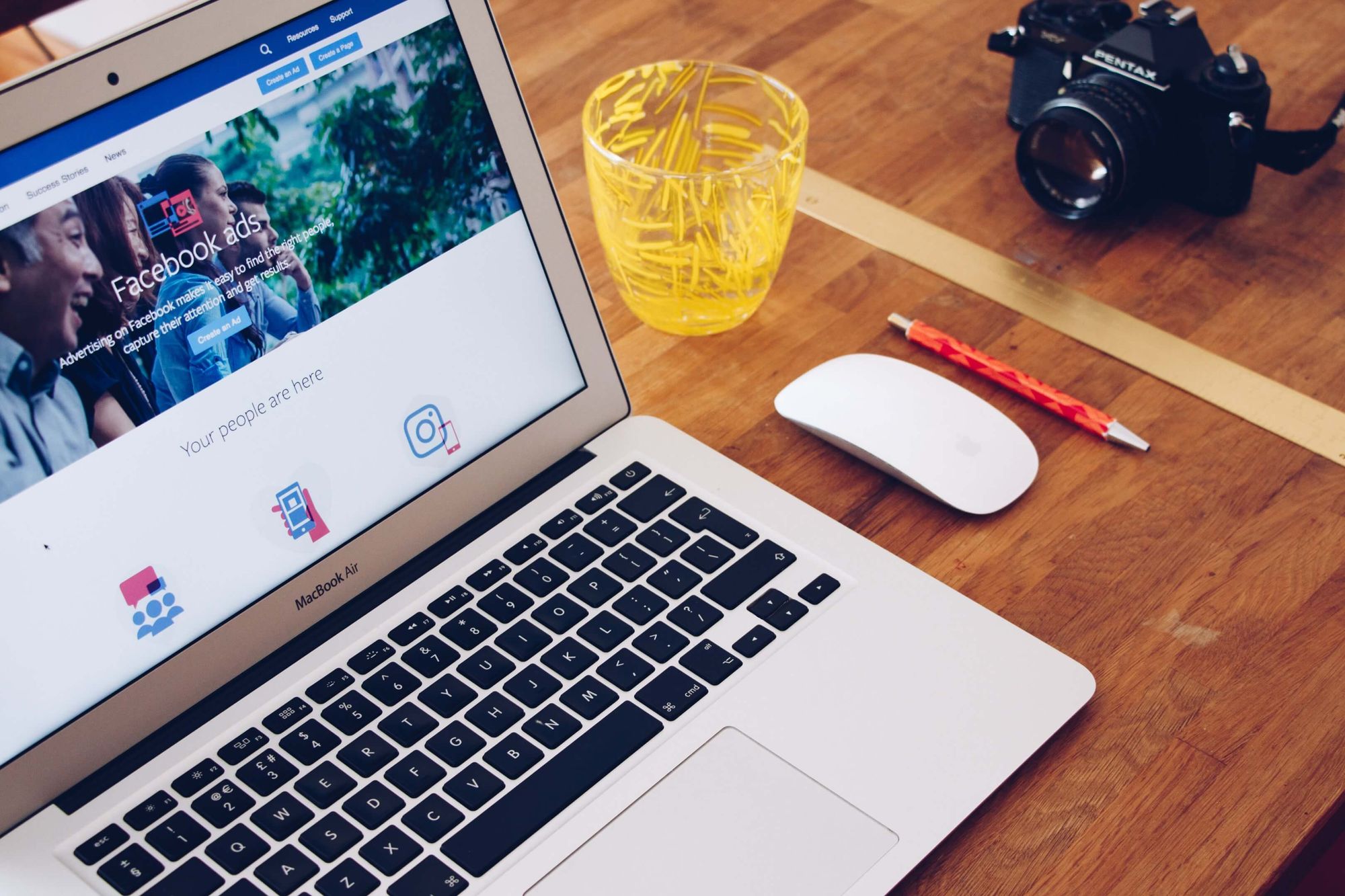 Video
Video can be a powerful tool for SEO, as Google has been rumored to prioritize search results with video over those without. Another consideration is that a crucial metric for SEO is the amount of time users spend on a page or site and the backlinks referring back to your domain, and video can both boost the amount of time people spend on a webpage and improve the quality of your content, potentially improving the potential to earn backlinks.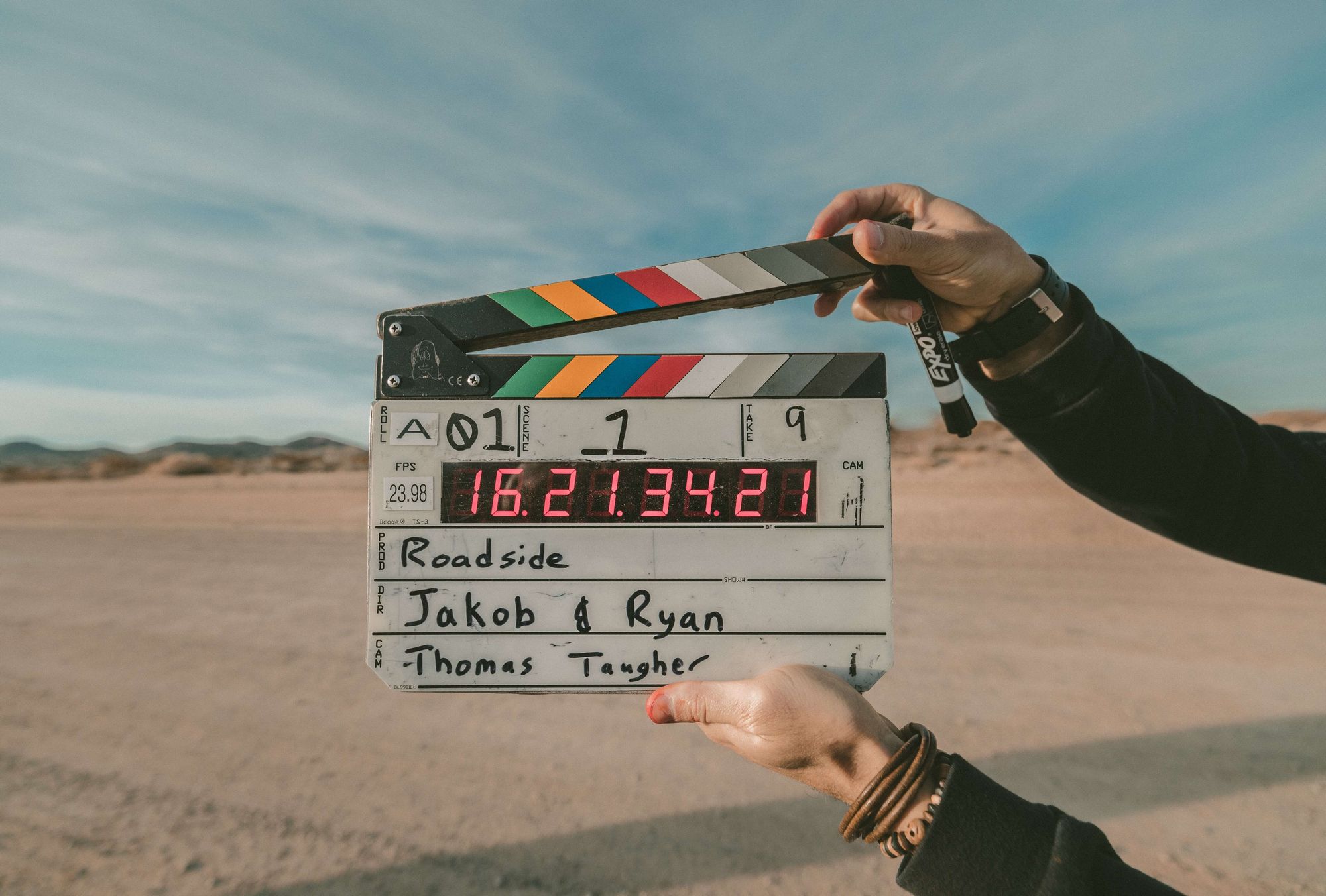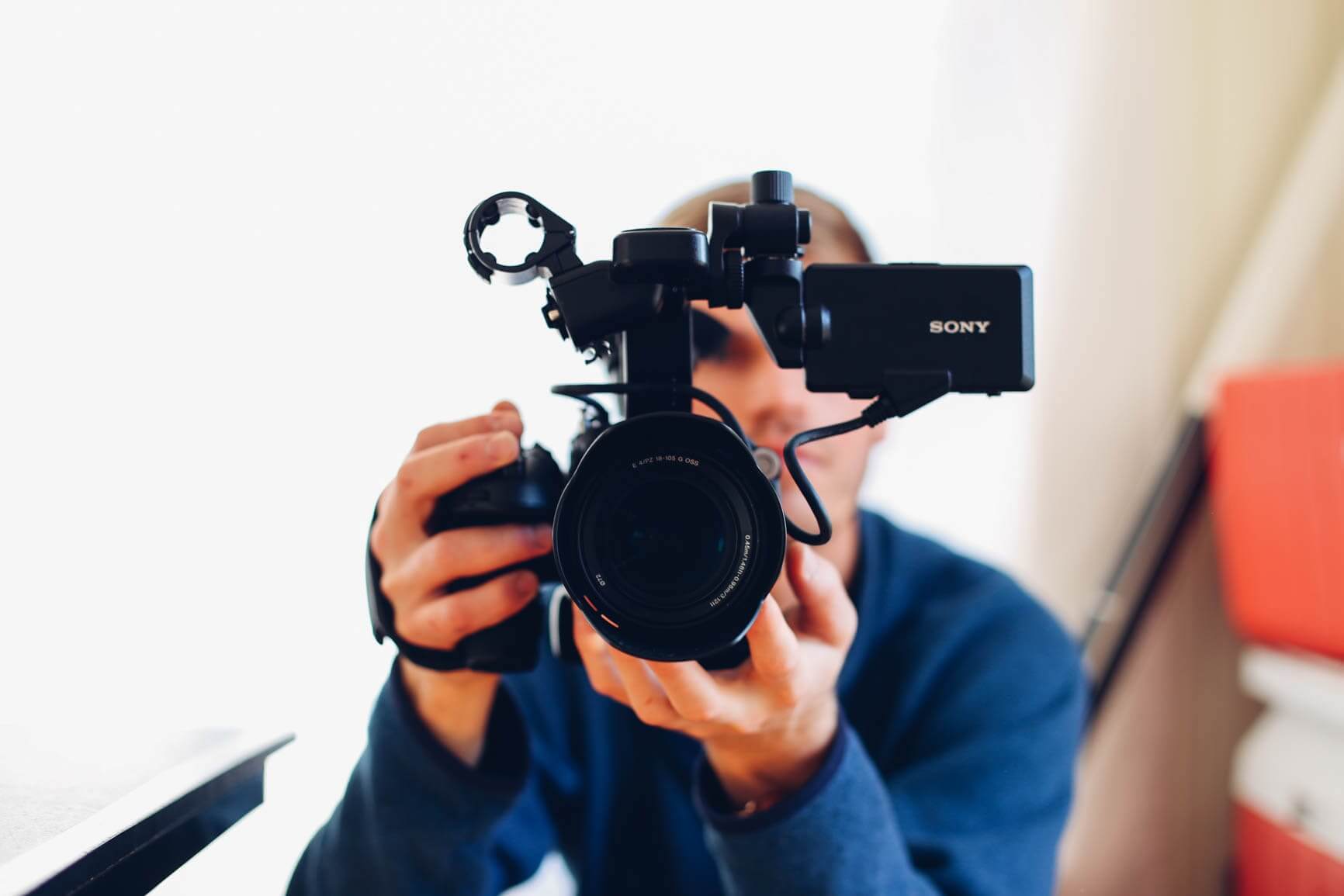 Final thoughts
When you develop your marketing skills, you not only facilitate more successful SEO campaigns, but by utilizing your skills within other marketing departments, you can provide valuable knowledge and insights from your unique perspective as an SEO exec.
Want to learn more about becoming a t-shaped marketer? Or honing your SEO skills? Join the Revenue Marketing Alliance Community!