As the digital age has progressed, we've seen the rise of many new marketing channels. Shiny sparkly social media. Vivid video. Creative content. Vivacious VR experiences. And plenty of other marketing channels with fun alliterative adjectives. So many, it makes the old workhorse of email marketing seem a tad overshadowed.
But you know what, B2B email marketing works. 59% of B2B marketers cite email marketing as their top channel for revenue generation, and even when it's not the top channel, it's dang well popular: 81% of B2B marketers utilize email marketing.
A couple of reasons for this:
It's cost-effective. Email marketing on average generates $42 for every $1 spent. That's an ROI of 4,100%.
It's a captive market. With B2B marketing, you can't guarantee everyone in your audience will check their social media, read your content, or watch your videos. But you can pretty much guarantee they'll check their emails. That means they'll at least see your email in their inbox, so the next step is just convincing them to open it (we'll get to that).
With email being such a core aspect of B2B marketing, you'll need to make sure your emails are at the highest standard. Over 300 billion emails are sent every day, and the average worker receives 121 of them in their inbox. You'd better make sure they pick yours to open.

Timing
First up, you've to make sure your emails are in the right place at the right time. Open rates of emails drop off massively after the first two hours of their arriving in the inbox. You can enhance your chances by making sure you're scheduling your emails at the optimal times to reduce the risk your email will get pushed down their inbox by others.
Next, what day to send them? Over a third of email marketers send 3-5 emails a week, meaning they can spread themselves across multiple days. But if you only have the resources for one email a week, or have a particularly important email, you should know that emails seem to get the best responses in terms of open-rates and click-through-rates on Fridays.
What about the time of day? Even though the majority of people check their emails frequently throughout the day, that doesn't mean they're going to be free to open your emails every time they check. They could be looking out for a certain email, they might not have time to open your email at that time.
That's why you'll get a lot of results if you google something like "the best time to send B2B emails". You want to find a time for your email to hit people's inboxes when they've got time to open it, and are most amenable to what you might be offering.
Unfortunately, just about everyone has different ideas about what time is best. If you need stats to support something like a campaign proposal, you'll probably be able to find sources that cite just about every time during office hours.
The real best way to find the optimal time for email opens? Get to know your target audience's schedules and send emails to them at various times until you find one that works.
Maybe you want them arriving first thing in the morning, when people are checking their emails at the start of the day. Maybe near lunch could work better, when they're less likely to be in the middle of a task. The only way to really know is by testing.
To get the timing really right, you can ensure emails are automatically sent based on your subscribers' behavior. Trigger emails are emails that are automatically sent when a person does something in relation to your brand. These can be things like welcome emails when they sign up, or confirmation emails if they've RSVP'd to an event or purchased something from you. They have higher open- and click-through rates than other types of emails, mainly because your audience will be expecting them.
Welcome emails in particular are very effective. They have very high open- and click-through-rates, and if a new subscriber opens one and doesn't flag it as spam, it will reduce the chance of your future emails being flagged as spam.
Your subject line
Getting your emails into your target audience's inbox at the right time is just the first step. Just because they've seen your email, it doesn't mean they're going to open it. Your subject line plays a big part in increasing your open rate.
In fact, 49% of email recipients make their decision to open an email based on the subject line, while 69% will report an email as spam because of the subject line, making it harder for you to reach that person again.
Therefore, you're going to need a decent subject line.
Personalization is the way to go. Just including the person's name in the subject line can increase your chances, but if you really want success, the subject line needs to be as specific as possible to that particular person and their needs.
You've also got to keep it short and sweet. 82% of email marketers use subject lines with 60 characters or less. This is so their whole subject line will display properly in people's inboxes. If you need some help with subject lines, check out our article here.
For one last quirky thing you might want to try out for your email subject line: an emoji in the subject line apparently can increase open rates by a whopping 56%, and yet only 6.9% of emails have them. Of course, you'll want to make sure it's right for the type of email you're sending and your audience is one that would be responsive to emojis 😉.
Content
So you've managed to be in the 20-30% of emails that get opened (it can vary by region). Now what? Now it's time to consider what to actually put in the email.
First, you'll want to make sure you're sending the right types of email to the right audience.
As we mentioned, trigger emails should be a big part of your email marketing strategy.
Newsletters are an important content distribution channel: it's the most used type of content marketing by 81% of B2B marketers. They are often used for lead nurturing strategies, occupying the middle of your email marketing funnel (for more on B2B marketing funnels, go here).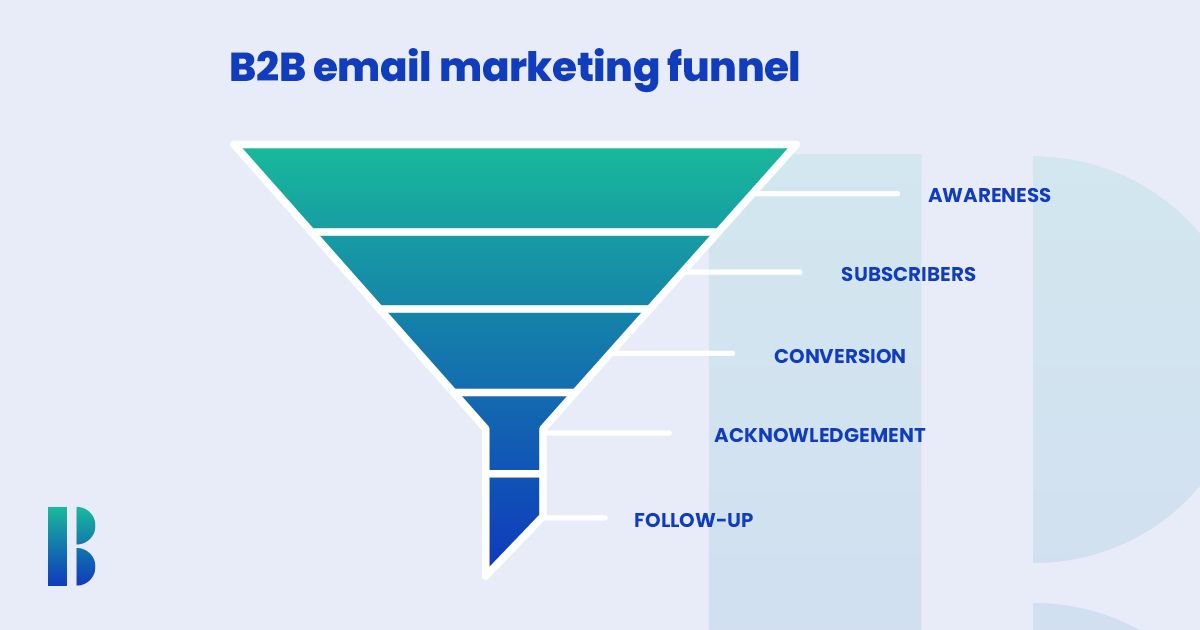 Upselling and cross-selling emails should be going to existing customers.
Regardless of the purpose of your email, you're going to want to keep it low on copy with a good image making up the majority of the email. Emails that are predominantly image-based have an increased open- and click-through-rate, so stick to that good old cliche: "a picture tells a thousand words". A good rule of thumb for the ratio of image to copy is 80% image, 20% copy, as an email that's just a single image is more likely to be flagged as spam by filters.
Video could also be an option to look at. Embedded video content can potentially double your click-through-rate. However, you'll need to be careful, as it could increase the loading time of your email, and some email browsers don't support video at all, but it could be worth testing.
Next, you'll want to make sure the purpose of your email is clear. You shouldn't just rely on a hyperlink in the copy. Including a call-to-action button with clear instructions can increase your click-through-rate by 28%.
Mobile optimization
Mobile is incredibly important for email. Mobile accounts for a large percentage of email opens, with iPhones alone accounting for 39%. Now, this does include consumer and personal emails, but it still accounts for a high enough proportion that you need to take it into account. Especially when 42% of people delete emails on their mobile devices that aren't optimized for their device rather than read it on a desktop later.
All of your emails should be optimized for mobile. That means you have to take into account mobile screen size and loading times. Links should be easily clickable using touchscreen.
It can also apply to your subject line. Remember what we said about keeping things short in your subject line? You might want to aim to go even shorter since the majority of mobile email browsers only display 25-30 characters. Shakespeare might have written "Brevity is the soul of wit", but it's also the soul of a mobile email subject line.
Personalization and segmentation
Personalized emails can take your email marketing strategy to the next level: they increase open-rates, click-through-rates, customer satisfaction, and sales.
Beyond things like including the person's name or business in the copy, you can use systems to populate your email with subjects and items your subscribers have identified as being interesting to them. In fact, 88% of users are more likely to respond favorably to an email if it looks like it was created just for them.
One easy to help with personalizing your emails is to segment your email list. Doing it effectively can really pay off. Segmented emails can have over double the clicks than unsegmented ones. If you're still not sold, it can increase your revenue from email by a whopping 760%.
There are many different ways to segment B2B audiences (you can find some ways in our article here), but one way to do it with email marketing is to segment where your subscribers are in your marketing funnel.
Doing this ensures you're tailoring your emails to your relationship with that lead/customer. Leads that need nurturing get content to aid that, existing customers get content to foster loyalty and cross-sell, previous customers get emails to coax them back into buying, etc. etc.
Just keep testing
Email is one of the best methods for A/B testing. Most email automation systems allow you to easily try out different email layouts, copy, subject lines, and more within the same campaign. With enough data, you'll be able to refine your B2B email marketing strategy into a well-oiled machine with:
Ideal distribution times and triggers.
Incredibly engaging layout, copy, and design.
Perfectly personalized emails to exactly the right people.
A good way to test your email marketing is to establish the right KPIs. Check out our guide here.

Got any top tips for B2B email marketing? Maybe there's something you're struggling with. Let us know!