Technology and software play a key role in revenue marketing. Many companies rely on centralized systems to help keep their work transparent across different departments and utilize tools to track revenue performance and how much ROI marketing is generating.
Our State of Revenue Marketing report is packed full of data about everything such as how revenue marketers are reaching their goals, the top objectives for revenue marketers, the state of marketing and sales alignment, and much more.
In this preview, we share some of our findings from the report related to the current state of MarTech. But you can also download the full report for a more in-depth look at revenue marketing overall.
Number of software tools
First, we wanted to get a sense of just how big our respondents' tech stacks are that their companies use. We asked them to tell us how many software tools they currently utilize, from 10+ to None.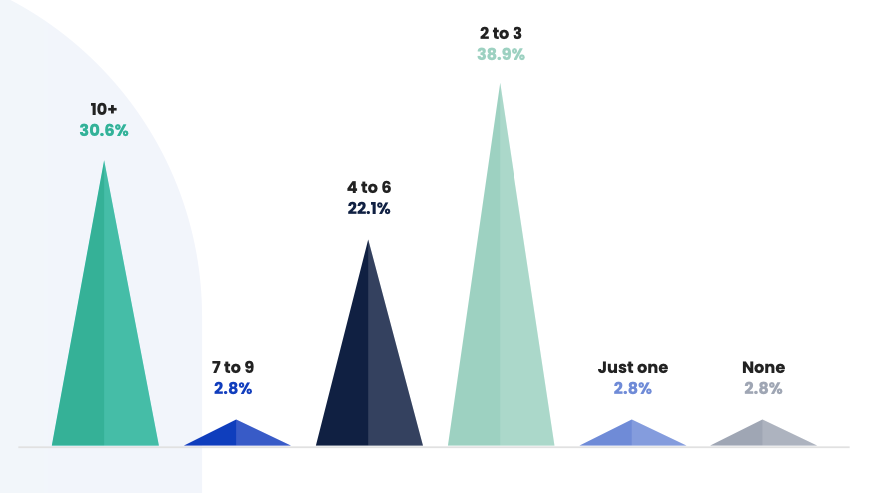 The majority of respondents chose 2 to 3 (38.9%), but 10+ came in second place (30.6%) showing quite a disparity in results. This suggests that perhaps there's no real consensus amongst marketers as to what the ideal number of software tools is needed to succeed.
We wanted to see if the number of tools used has any relation to revenue performance. In terms of whether revenue goals were achieved or not, we found that 56.3% of those with "None" to three tools achieved their goals, compared to 60% of those using four or more. So, there didn't appear to be much of a correlation, suggesting that perhaps it's how teams are using their software tools as opposed to how many tools they use that factor in.
However, of the few respondents that reported having exceeded their revenue goals, they all stated that they use 10+ software tools.
Data integration
Next, we asked how our respondents' data is integrated within their company, giving them a list of options to choose from.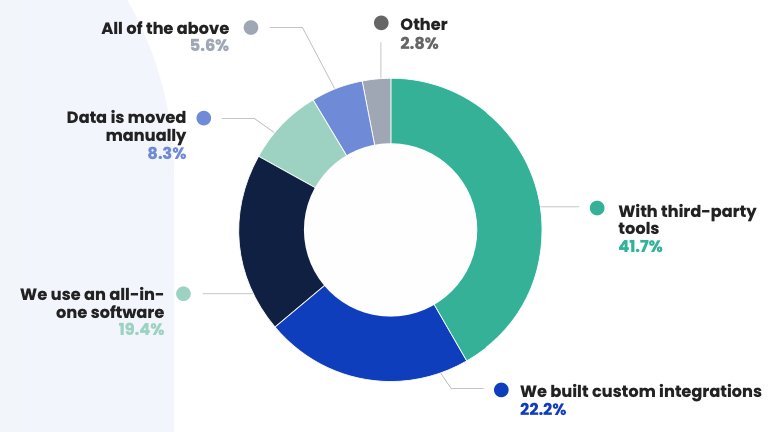 "Third-party tools" are by far the most popular method of integrating data (41.7%), and fortunately, very few people are still moving their data manually.
💡
"Focus and data. Almost everywhere I've worked data is generally the biggest challenge [to revenue performance] which then makes it difficult to know where to focus efforts. There is never a shortage of things you can do with marketing so having a proper roadmap, customer insights, and analytical rigor is a critical foundation for all revenue performance teams. Most companies don't have issues with data, but insights can be another story.

Making sure you're investing in customer research, data analytics, and data discovery so that you can hone in and refine your growth engine. Never underestimate the value a strong marketing revenue operations and analytics team can bring. And always be digging into your customer research. These roles are almost always my first hires!"

Tara Robertson, Bitly
Tech stack effectiveness
While tools and software are infinitely useful, they can also be a hindrance if not used properly, if teams don't know how to best utilize them, or if there are just too many tools that don't integrate well together.
We asked our respondents how effective they find their current tech stack for their needs from "Very effective" to "Not at all effective".

No one considered their tech stack to be "Very effective" for their needs, which is a little concerning. It suggests that most organizations do not currently have everything they need for their teams to succeed, or perhaps they even have too many tools and are over-complicating things.
When looking at the number of tools currently being used and the perceived effectiveness of tech stacks, we found the most successful outcome appeared to be for those using "4 to 6" tools, with 50% of those respondents rating their tech stack as "Quite effective", and 50% rating it as "Somewhat effective".
Decision-making power
We asked whether our respondents had any decision-making power when it comes to the MarTech stack in their organization.
We're glad to see that the majority (80.6%) of marketers have some kind of control over MarTech purchases.
When comparing how the respondents rated the effectiveness of their current tech stack to whether or not they have decision-making power, we found that 41.4% of people who do have decision-making capacities consider their tech stack to be "Quite effective", compared to just 14.3% of those who have no decision making power.
It's not a huge surprise to see that marketers with the power to purchase MarTech seem to find their tools more effective overall, compared to those who don't, as they'll be using the tools and able to ascertain their effectiveness firsthand.
Attributing marketing to revenue
Finally, we wanted to know which kind of tools were the most prolific among our respondents for attributing marketing channels and campaigns to revenue performance.
This was an open question, and these are the tools that kept cropping up:
HubSpot
Salesforce
Google Analytics
Marketo
Looker
Domo
SalesPro
Bizable
Facebook ads
Google ads
LinkedIn
The right kind of MarTech can not only help marketers achieve their goals, but also aids marketing and sales alignment by creating transparency across the organization. You can read more from our post about marketing and sales alignment, or download the full report to see the entire picture.
Want to read the full report?
Want to read the rest of our findings for revenue marketing in 2022? Download the full report today to discover what the revenue marketing role looks like currently, revenue performance projections and challenges, and the state of marketing and sales alignment.