Held on 15-16 June 2023 in Seattle, the Revenue Marketing Summit served as a hub for professionals seeking to stay ahead in the ever-evolving landscape of revenue generation.
Throughout the event, attendees were treated to a lineup of exceptional speakers, engaging sessions, and networking opportunities that left a lasting impact. In this article, we'll dive into:
So, whether you were a participant eager to relive the highlights or missed out and want a taste of what's in store, join us as we retrace the footsteps of our revenue marketing extravaganza.
Plus, stay tuned for an exclusive sneak peek into our upcoming event, the Revenue Marketing Summit, San Francisco, where we're raising the bar even higher to equip revenue marketers with the tools and knowledge they need to thrive in today's competitive landscape.
Let's dive in and discover the remarkable insights that emerged from this unforgettable event!
Four top talks from the Revenue Marketing Summit, Seattle
Within the realm of revenue marketing, the Revenue Marketing Summit in Seattle served as an epicenter of knowledge and inspiration. The event brought together renowned industry experts, thought leaders, and practitioners who shared their expertise and experiences through a series of captivating talks.
To give you a taste of the good stuff, we've delved into three standout presentations that captivated the audience and left a lasting impact. These talks offered profound insights, actionable strategies, and innovative approaches that attendees could implement in their own revenue marketing endeavors.
Let's explore the highlights of these remarkable sessions and uncover the valuable takeaways they provided…
Panel: Empowering women in technology: Overcoming barriers and advancing diversity
The panel discussion focused on the critical issue of empowering women in technology, delving into the challenges and opportunities that existed for women seeking to enter and succeed in this field.
The speakers included:
Kasturi Pal, Head of Marketing at Amazon
Channa Bannis, Head of Demand Generation at Blend
Sarah Carling, VP of Growth at Buoy Health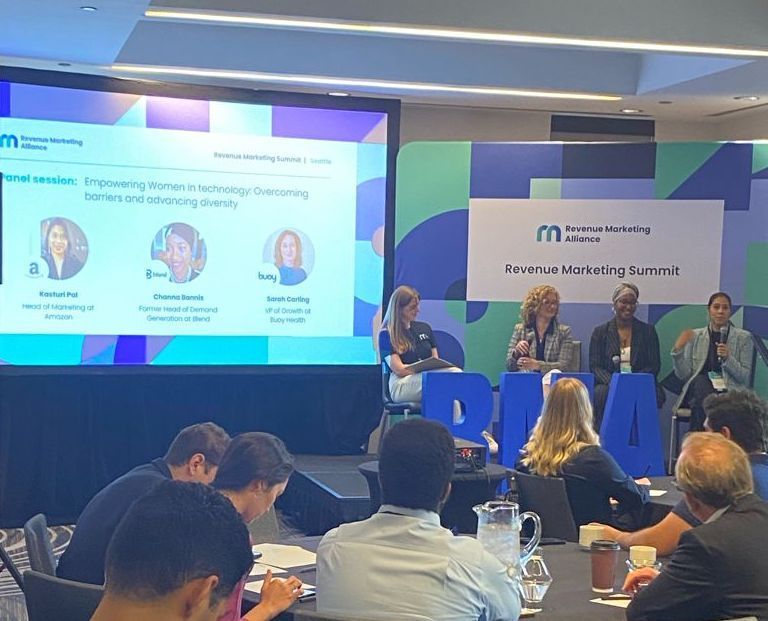 The panelists brought their unique perspectives and experiences to the discussion, sharing valuable insights on the barriers faced by women in tech, effective strategies to overcome these obstacles, and the significance of diversity and inclusion in fostering innovation and progress.
The panelists addressed various topics that encompassed the following:
The role of education and mentorship in empowering women in technology was highlighted. They emphasized the importance of providing educational opportunities and mentorship programs to equip women with the necessary skills and support to thrive in the industry.
The impact of gender bias and stereotypes on women's experiences in the tech industry was explored. The panelists shed light on the challenges faced by women due to biases and stereotypes, emphasizing the need for awareness and concerted efforts to eliminate such barriers.
Strategies for cultivating supportive and inclusive workplace cultures that value diversity were discussed. They emphasized the significance of creating an environment where all individuals, regardless of gender, feel valued, respected, and empowered to contribute their unique perspectives.
The potential benefits of greater gender diversity in technology, including improved innovation and productivity, were highlighted. The panelists underscored the positive outcomes that arise from embracing diverse voices and perspectives within the tech industry.
Through a lively and engaging discussion, the panelists offered practical insights and actionable advice for women seeking to advance in the tech industry, as well as for employers and industry leaders committed to promoting greater diversity and inclusion in the workplace.
It was an inspiring and informative session that shed light on the importance of empowering women in technology and the transformative impact it can have on the industry as a whole.
Shifting from me to we
Paul Peterman, Senior Managing Director at Reddit, delivered an insightful talk on the evolving landscape of social media consumption and the emerging trends among Gen Z and younger millennials.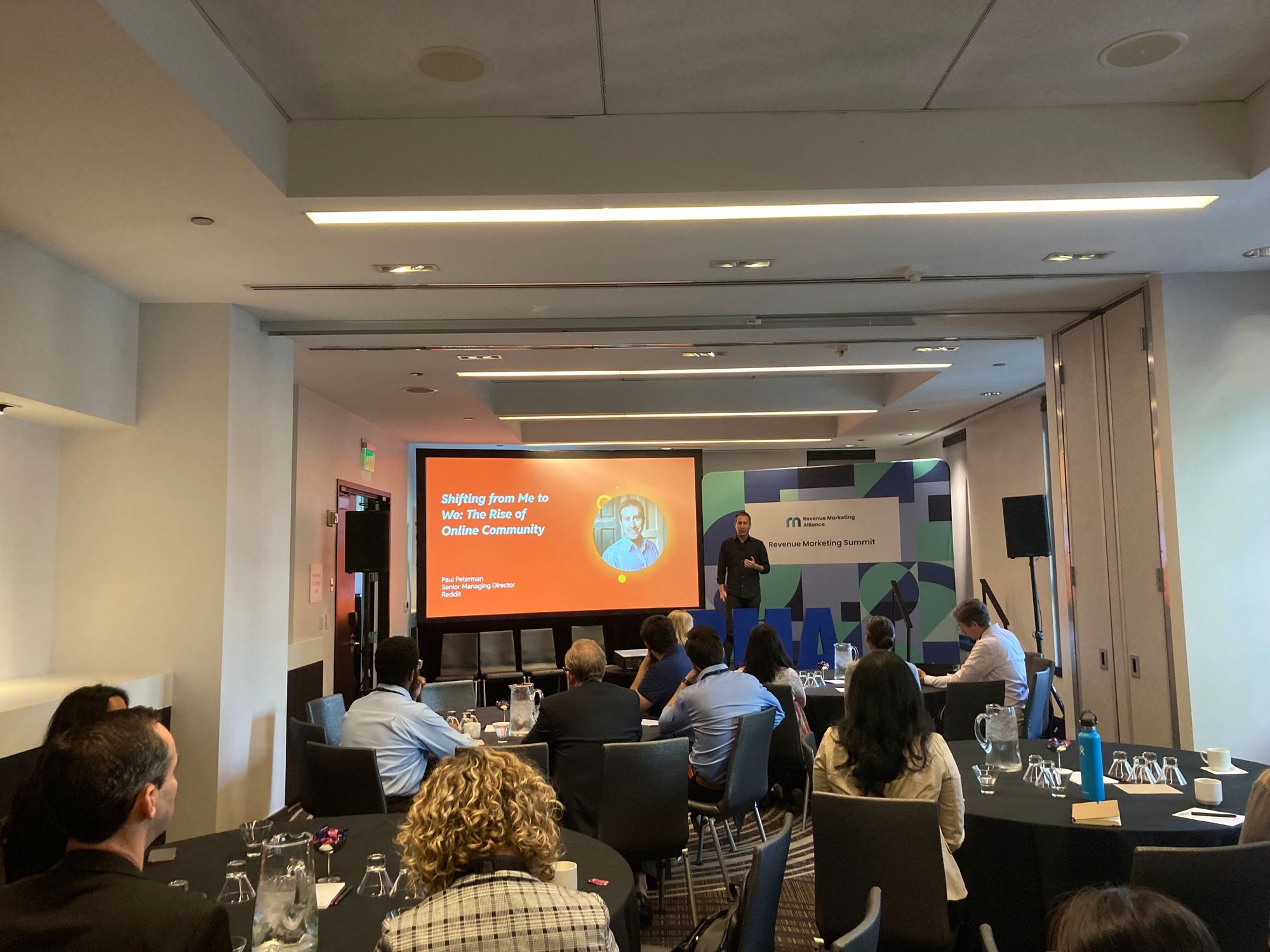 He discussed the substantial shift in their time and attention away from traditional social platforms, highlighting the diminishing trust in news and influencer marketing among these generations. Instead, they are increasingly gravitating towards community-based platforms.
Paul emphasized the importance of brands adapting to this changing scenario and finding innovative ways to connect with their target audience. With the impending cookie-less future, he stressed the need for marketers to explore new avenues for reaching their customers. Solutions based on interests, context, and keyword targeting enable marketers to identify and engage with their audience while ensuring privacy protection.
During the session, Paul delved into the transformations occurring in social media consumption patterns. He explored the evolution of online communities and the unique opportunities they present for brands to establish meaningful connections with highly engaged individuals.
By leveraging these communities, brands can tap into the interests and passions of their target audience, fostering authentic interactions and driving success in this dynamic space.
Overall, Paul Peterman's talk shed light on the shifting landscape of social media, the rise of community-based platforms, and the strategies employed by successful brands to navigate these changes. It provided valuable insights for marketers seeking to adapt their approaches and effectively engage with Gen Z and younger millennials in the ever-evolving digital realm.
The ROI of content marketing
Aviv Canaani, the VP of Marketing at Datarails, delivered a thought-provoking talk on the significance of content marketing in tech companies, particularly in the context of downsizing and increased scrutiny from CFOs.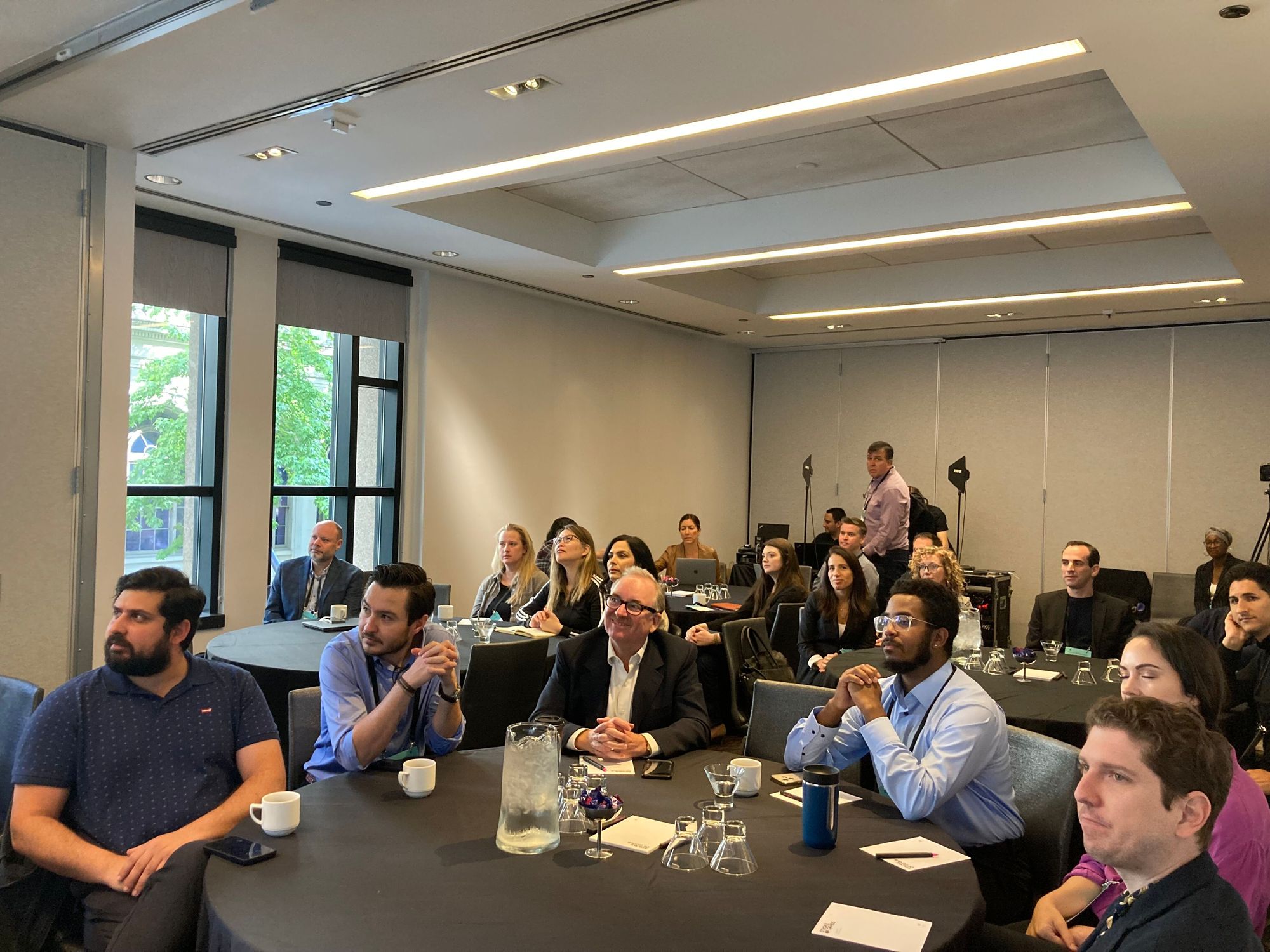 He addressed the pressing questions that many CFOs have been posing to their CMOs, including the purpose of content marketing, its return on investment (ROI), and the possibility of relying solely on ChatGPT for content creation.
During the session, Aviv shared his insights on demonstrating content marketing ROI to CFOs and the mathematical framework behind it. He emphasized that exceptional content marketing has the potential to revolutionize even seemingly "boring" industries like financial planning and analysis, injecting creativity and vibrancy into the field (yes, even Excel memes can be part of it!).
Aviv provided actionable takeaways for the audience, including:
Strategies for executing outstanding content marketing that truly impacts business outcomes.
Exploring the concept of "Brand Leads" and why measuring them is crucial for evaluating content marketing success.
Effectively presenting the mathematical calculations to CFOs to showcase the ROI of content marketing initiatives.
Harnessing the power of Artificial Intelligence to measure and analyze the effectiveness of content marketing activities.
By the end of the talk, attendees gained a deeper understanding of the transformative potential of content marketing, even within technical industries. Aviv's insights provided actionable guidance for implementing successful content marketing strategies, measuring their impact, and leveraging AI tools to optimize content marketing efforts.
Overall, Aviv Canaani's talk shed light on the value of content marketing in the face of downsizing and heightened scrutiny. It equipped attendees with the knowledge and tools necessary to navigate these challenges, showcasing how content marketing can be a powerful catalyst for success in both traditional and unconventional industries.
Revolutionizing marketing with AI-generated content: Opportunities and challenges
Abhishek Ratna, an esteemed AI/ML Product Marketing Leader with a rich background at Google, Meta, and Microsoft, delivered an enlightening talk on the transformative power of Artificial Intelligence (AI) in the field of marketing.
The session explored the ways in which AI is revolutionizing content creation, presenting marketers with new opportunities for automation and optimization.
Abhishek discussed how AI-generated content has the potential to significantly enhance marketers' ability to reach and engage with their target audience. By leveraging AI, marketers can create personalized and compelling content that resonates with individual customers, leading to more effective communication and stronger connections.
However, Abhishek also addressed the potential challenges that arise with AI-generated content. Data privacy concerns and ethical considerations were highlighted as crucial aspects that need to be carefully managed. The talk emphasized the importance of maintaining ethical practices and ensuring data privacy while harnessing the power of AI in marketing.
Attendees left the session with a deeper understanding of the opportunities and challenges associated with AI-generated content in marketing. They gained insights into the ways this technology can drive business growth, optimize content creation, and improve customer engagement. Abhishek's talk equipped marketers with the knowledge and strategies needed to make the most of AI in their marketing endeavors.
Overall, Abhishek Ratna's talk highlighted the profound impact of AI in transforming marketing practices. It provided valuable insights into the evolving landscape of content creation, empowering marketers to leverage AI effectively, navigate potential challenges, and harness this technology to drive business success.
Networking opportunities and industry connections
The Revenue Marketing Summit held in Seattle was an exceptional gathering that left a lasting impression on attendees.
The event not only provided a platform for gaining valuable insights and knowledge from industry leaders, but it also fostered remarkable networking opportunities and facilitated the establishment of meaningful industry connections.
Katie Parlin, Snerioe Director Marketing at Flow Waterjet gave a sparkling review of the Summit in Seattle, saying:
"Let me tell you, I had a blast! The Summit was intimate, which allowed for deep and meaningful conversations. The sessions were informative; we were surrounded by highly intelligent people who knew their subjects in and out, backward and forward. It was extremely engaging.
"Here's my BIGGEST takeaway from the event:
"It's so important to get outside of your day-to-day bubble and talk to other marketers… to have conversations with other marketers. We tend to get caught up in our own world and don't reach outside company walls, and that's exactly what took place last week and it was refreshing!"
One of the highlights of the Summit was the incredible networking experience it offered. Attendees were able to connect with a diverse group of professionals, ranging from seasoned marketers to emerging talents, creating a dynamic and vibrant atmosphere for idea exchange and collaboration.
Through engaging conversations and discussions, participants had the chance to build relationships, share experiences, and expand their professional networks.
The positive feedback from attendees further emphasized the significance of networking at the Revenue Marketing Summit.
According to an Account Based Marketing Specialist at LSEG, "Such a superb experience and networking opportunity at the Revenue Marketing Summit! Great insights, engagement, and speakers. Would absolutely attend the next event." This testimonial highlights the value of the connections made and the enriching experience that the summit provided.
The event also offered attendees a unique opportunity to gain firsthand insights from some of the industry's most brilliant minds. As the Head of Marketing at Savant expressed, "I was lucky to get an opportunity to listen to some of the best brains in the industry and understand their opinion and their experiences."
The Summit featured esteemed speakers who shared their expertise, success stories, and innovative approaches, enabling participants to broaden their perspectives and stay updated on the latest trends and strategies in revenue marketing.
The networking opportunities and industry connections forged at the Revenue Marketing Summit were invaluable.
Beyond the knowledge gained from the engaging sessions, the relationships built during the event extended beyond its duration. These connections can lead to collaborative projects, partnerships, and further professional growth.
Stay tuned for… Revenue Marketing Summit, San Francisco
If you didn't manage to get a ticket for the remarkable experience in Las Vegas, fear not! We're thrilled to announce that we're matching the excitement and insights of Seattle and bringing up the coast to the vibrant city of San Fran on September 21-22
The next installment of the Revenue Marketing Summit promises to be even bigger and better, with a lineup of influential speakers, cutting-edge strategies, and unrivaled networking opportunities.
Join us in San Francisco as we continue our mission to empower revenue marketers with the knowledge and tools they need to drive exceptional results.
Whether you're a seasoned professional or just starting your revenue marketing journey, this event is designed to inspire, educate, and connect you with like-minded individuals who are passionate about pushing the boundaries of revenue marketing.
Mark your calendars (September 21-22!) and secure your spot for the upcoming Revenue Marketing Summit in San Francisco. We can't wait to welcome you to this transformative event and witness the impact it will have on your revenue marketing strategies.