CMOs and VPs of Marketing — This article is for you!
Let's talk about the elephant in the room 🐘
Some of us know this elephant like the back of our hand…
I'm talking about the conflict between sales and marketing.
Although this is a well-known issue, it's been escalating with the increased adoption of Marketing Automation, Conversion Rate Optimization (CRO), Funnel Analytics, and Performance Marketing.
The positioning of the marketing department within the organization has been changed. Now, when marketing controls most of the buyer's journey, it makes the conflicts with sales more and more complex.
Yes, this conflict does not exist in every company and doesn't always rage at the same intensity, but when it does exist, its consequences can be devastating to the organization 🤔
This is true for traditional B2B organizations, and even more so for B2B SaaS organizations.
Pointing fingers at each other is not a constructive approach…
Hereunder are 3 recommendations for effective sales and marketing alignment
Teach
Invest time and teach your salespersons the fundamentals of marketing. Teach them what marketing does and how they can make more money with tighter integration with marketing.
And vice versa…
Dear marketeers — attend sales reviews, join client meetings, and know the real "client journey."
Knowing how the final stages in the funnel work in real-life, requires familiarity with a set of sales activities that seems like a "black box" for many marketeers: licensing and pricing; objections handling, payment terms, support, deployment, POCs management, legal aspects, tenders, supply chain. You name it.
Dance together
Work closely with your sales force on Account-Based Marketing (ABM), events, campaigns, content creation, social selling, and more. You can multiply the impact of each touchpoint by leveraging insights from your sales colleagues.
Management
Agree on mutual KPIs. By defining what is a "SQL" (Sales Qualified Lead) you can solve 80% of all problems. Set a clear and constructive work process that supports the alignment, and invest in bonding…
On a personal note, I have based the above recommendations on my own experience as a sales manager and marketing manager (yes, I'm a two-headed monster…👹).
Switching from Sales to Marketing and back has given me a broad perspective on the end-to-end funnel and how to mitigate internal organizational bumpers.
Bottom line
Investing time and thought into the alignment between marketing and sales will guarantee your company more revenue at a lower Customer Acquisition Cost (CAC).
The three tips I've shared above are exactly the steps you need to take to foster transparency and harmony between marketing and sales.
About the author
Tomer has over 20 years of experience helping global technology corporations grow in global and regional markets.
His track record of success extends to multiple disciplines, including marketing, sales, and partnerships. Tomer is proficient in planning, implementing, and overseeing effective demand generation, product marketing, partner marketing, field marketing, and integrated sales and marketing practices.
He previously held the position of Senior Marketing at Amazon Web Services (NASDAQ: AMZN), Business Group Lead at Microsoft (NASDAQ: MSFT), and a Business Unit Lead at IBM (NYSE: IBM).
Tomer has an MBA in marketing from The College of Management Academic Studies (COMAS) and a B.A. in Business with a specialization in marketing, advertising, and information system management from The College of Management Academic Studies (COMAS).
You can also find him lecturing on B2B marketing, branding, and social selling, serving as a marketing mentor for early-stage startups.
B2B Marketing Festival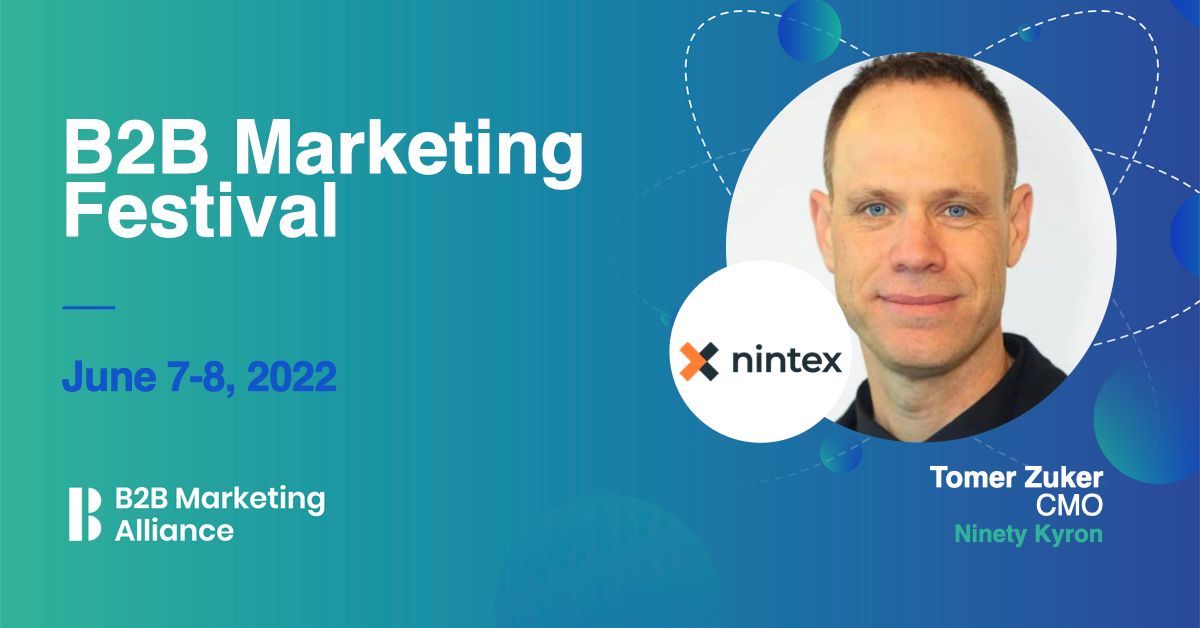 Want to hear more from Tomer? He spoke at the B2B Marketing Festival! Catch up on all the panels and see what you missed.
With thought-provoking content from expert speakers, the festival was a jam-packed two-day event where we discussed:
How to build a better brand with storytelling
How to unlock greater value from marketing technologies
Creating customized personal experiences at scale
Driving brand loyalty
Marketing in an ever-changing market
Using gamification to increase customer retention
What's next in CX?
Strengthening the relationship between sales and marketing
Tomer spoke at the Winning the Battle Between Marketing and Sales panel, alongside Gaël Angoula, Div Manickam, and Sam Shrager.
Revenue Marketing Summit Las Vegas
Join the next generation of marketers
We've assembled some of the biggest revenue marketing brains in the industry to reveal their best practices, challenges, & experiences so you can:

🥇 Stay on top of trends to get ahead of your competitors
📈 Learn how to drive consistent growth with proven, actionable tactics
🗣 Network with your peers & make meaningful connections
🤩 Meet mentors & form relationships to help you excel in your career
🤝 Discover new talent & scale your team
Get your tickets for our Revenue Marketing Summit Las Vegas today!