Marketing and sales have always been intertwined, but the relationship is more important than ever.
When it comes to driving revenue, they're a dream team. Marketing reels prospects in with branding and campaigns tailored to what buyers want. Sales seals the deal by jumping in to answer prospects' specific questions. Working together, they nurture leads down the funnel more smoothly for improved conversion rates.
In this article, we'll take you through how you can help align your marketing and sales departments for the benefit of your business.
We'll cover:
In order to align your marketing and sales teams, it's important to understand both sides of the coin. To begin, Gaël Angoula, VP Marketing at Bloomin, gave us insight into the point of view of both marketing and sales. This is what he said:
Marketing's point of view
"Let's try to understand how the human brain works when it comes to purchasing. We marketers use cognitive bias to captivate and persuade audiences.
"Creating a sudden urge, a necessity of a commodity, is the basic principle of marketing. Once we humans put an eye on something, we tend to chase it until we achieve it. But this is the ideal case where sales is followed by marketing immediately. Some get out of this loophole due to distractions."
What it's like to work in a marketing service
"A constant effort is needed to structure the entire buying process. Analyzing human behavior, its needs, and separating it from wants has always been the most crucial part.
"When it comes to necessities, there is not much marketing required as people have already understood the importance and placed a fair value on it. The actual struggle arises when wants and desires slide in. A collaborative effort of both the marketing and sales teams is needed as this becomes a cumbersome task.
"Marketing point of view has always been simple and everlasting, i.e. believe in what you say and introduce. Marketing finds its foundation in the very fact of firmly believing oneself before convincing the audience.
"A coordinated marketing team and its members must be confident in whatever they are presenting to the world. They should be the eyes of the audience. A strong and strategic approach must compel the audience to look into the product from its marketing team's eyes. A regular check and improvisation in the strategies is the key to a healthy and long-lasting marketing career in this competitive world."
KPIs
"The performance of the team must be tapped in order to understand the potential and the growth. Some of the key performance indicators which are used to make unbiased decisions are as follows:
Turnover
"It is the most important and transparent KPI of all. Through this, it is very convenient to judge a marketing team as it presents a very comprehensive quantitative analysis of its performance. It indicates how many from the huge pile of target audience gets converted into a customer for the firm.
"The major idea of marketing is to convert the maximum of the audience into loyal customers. Every firm desires to have not just customers but loyal customers who visit again and again without any further advertisement, marketing, or compulsion."
Cost per lead
"An efficient marketing team must aim at cost-cutting at every level. Ideally, once someone from the target audience has been converted into a customer, further very less or negligible marketing should be used in order to convert that customer into a recurring customer.
"An instant connection is formed with the customer when a sale takes place. Now this relationship must be strengthened after every purchase."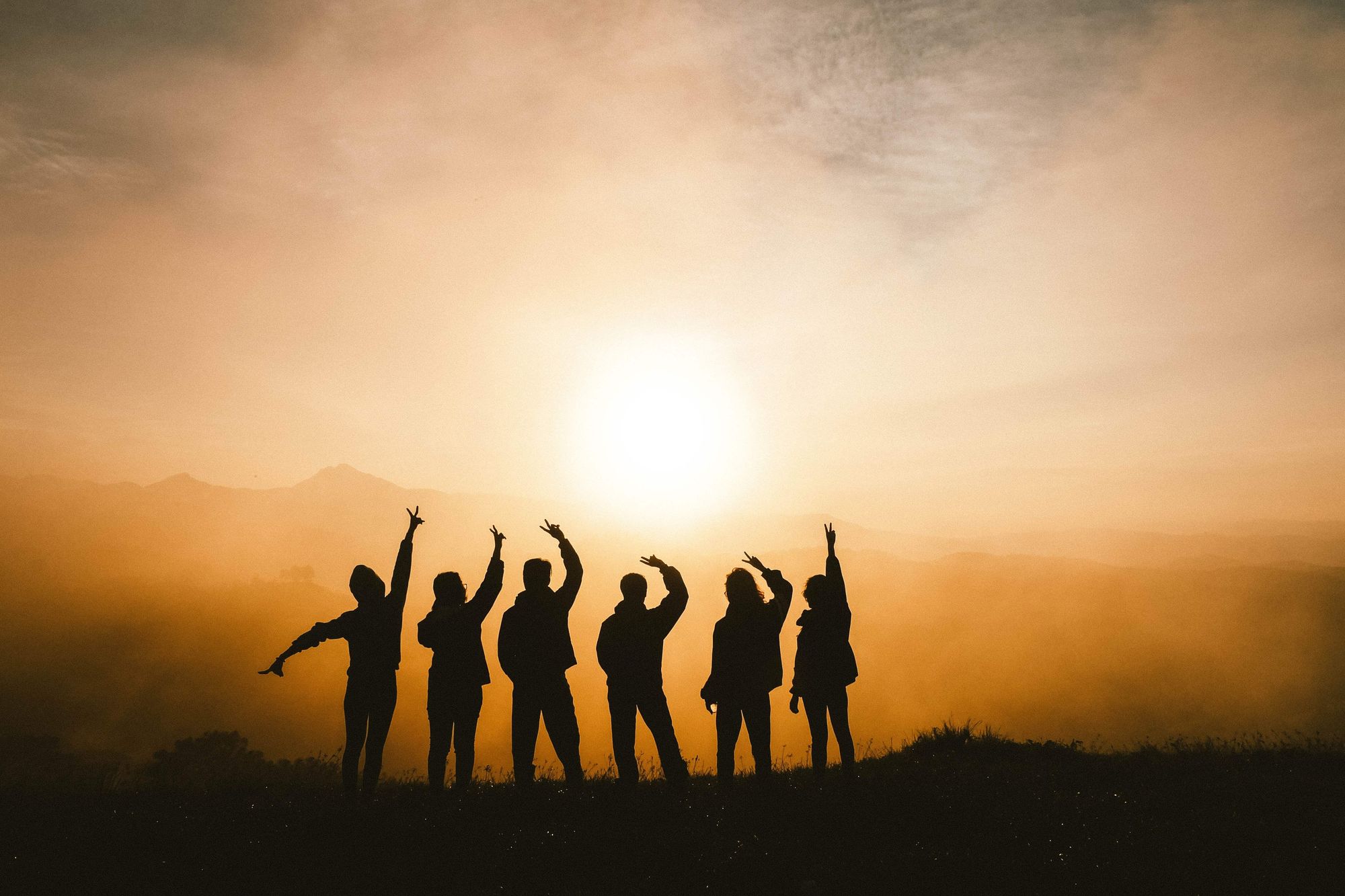 Sales' point of view
"Even after a lot of marketing, a very few from the list of potential customers make it to the list of actual customers. This clearly shows a vivid discrepancy that the first and the most crucial impact has been provided by the marketing strategies.
"Thus, a marketing team is the soul of any big firm."
What it's like to work in a sales service
"But not to forget that making a customer a recurring or a loyal customer lies majorly in the hands of a sales team with their exceptional customer services, listening to the grievances and addressing the same as soon as possible, forwarding the valuable feedback and thus making the entire services hassle-free for them."
KPIs
"Making contacts, engaging with the audience, and forming strong connections are some of the valuable traits of an efficient sales team. There exist the most important and significant attributes for judgment of a sales teams which are:
Customer interaction
"More the number of requests for demo sessions, client engagement activities, call back requests, better the chances of converting the crowd into customers.
Monthly sales growth
"It is a tedious but necessary task to keep track of all the transactions which have been made at every step and thereby compiling them into a report to analyze profits and losses as well as increments and decrements. This report is a decision maker."
The Bloomin's example
"Above all, it is important to clearly redefine the roles of the two teams at Bloomin.
"The Marketing team is there to bring leads. The Sales team is there to convert leads into customers. For this, the two teams have a significant point in common: they use the same data. We must therefore share this data."
To use and distribute the data correctly between the two teams, Gaël has set up sprint meetings at Bloomin. During these meetings, the two teams pool their ideas to try out new processes and new experiments:
"At the beginning of the sprint: take insights from Sales who are confronted with the same prospects as Marketing, but who have more opportunities to exchange with them.
"At the end of the sprint: to know how the appointments went and where the Marketing team can improve over time.
"Not only do the teams attend the same meetings but they also use the same collaborative tools: Trello, Notion, LaGrowthApp, etc.
"What data is shared by both the Marketing teams and the Sales teams?
"On the top-funnel part:
The number of leads acquired
The number of demos performed
The number of downloads of White Papers
The number of views on the different content
"On the bottom-funnel part:
The number of closed deals
Feedback on lead quality (lead/persona fit)"
Download the Marketing and Sales Alignment Playbook to gain expert insights, actionable advice/guidance, and example frameworks to get your marketing and sales teams truly aligned.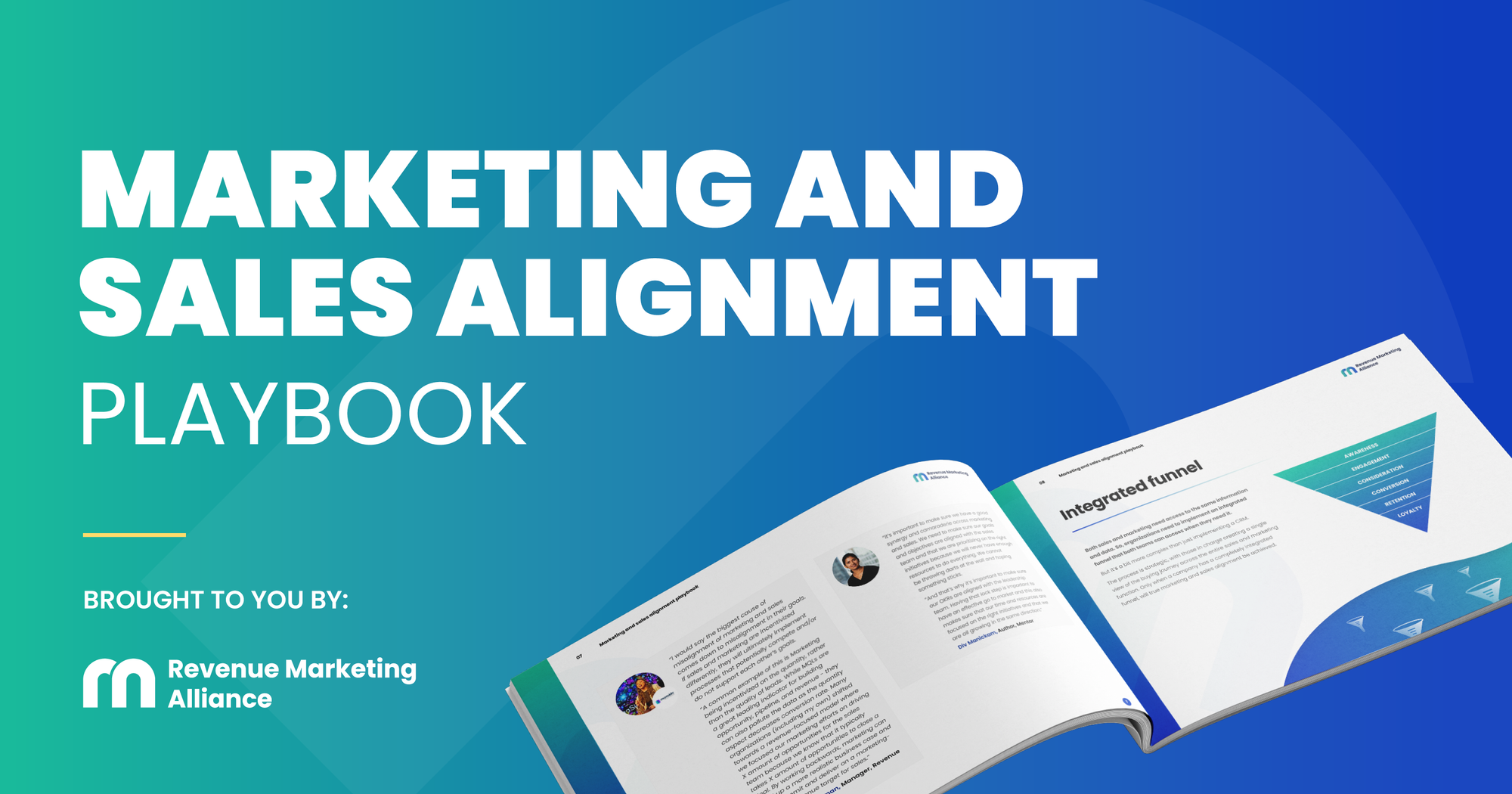 Marketing throughout the sales cycle
In order to be successful, it's crucial for marketing teams to work alongside sales at every step of the sales cycle.
The sales cycle can be a long and winding road. There are many twists and turns that can take a potential customer from initial interest to final purchase. Along the way, there are opportunities for marketing to step in and provide valuable assistance. Marketing teams can work with sales to create content that will help move the prospect along.
We spoke to, about how marketing can work alongside sales throughout the sales cycle for top results. This is what he said:
Finding prospects
"At the start of the sales cycle, the sales team will seek out prospects that they can work through the sales process. It can involve conducting online research or it can be done in person, such as at an event.
"For this stage of the sales cycle, marketing needs to be producing output that generates awareness about the product or service. It's likely your prospects won't have any idea who you are initially. So it's up to marketing to generate that awareness!
"To do this, you can produce content that focuses on educating and informing your audience. This can take a number of different forms including:
Blog posts
Social media posts
Videos
Podcasts
E-books
Infographics
"Unless you have a very large team, you'll likely want to focus on just a few types of content to see which best resonates with your prospects. Keep track of how many views and shares you're getting for your content, and if there are any follow-throughs after the interaction.
"If a certain kind of content doesn't seem to be getting any attention, consider digging into why, and perhaps switch to a new content type and test how that changes the engagement rate.
"Once a prospect has been identified, it's time for the sales team to reach out and start the process of building a relationship.
Making a connection
"During the next stage, sales teams will use marketing-generated content to set up meetings with potential customers. This is where having a strong understanding of your audience comes in handy. By creating content that speaks to their needs and interests, you'll be more likely to get their attention and schedule a meeting.
"When targets have started to show interest in the services and products your business offers, this is the time for marketing to really showcase why their company in particular is the right one for them to choose. At this stage, you're trying to build trust with your customers by establishing that relationship.
"The types of content marketing could be producing for this stage include:
Case studies
White papers
Downloadable resources
Virtual/in-person events
"This type of marketing helps to push prospects along the sales funnel, as it provides educational material that can help customers make a more informed decision.
"It's more specific content designed with them in mind, focusing on their specific pain points and answering any questions or concerns they might have about making a purchase.
"Make sure when you're creating any kind of content you're always keeping in mind its purpose. Keep monitoring if you're getting conversions or generating any new leads and adjust the content output accordingly.
Qualifying leads
"At this stage of the sales cycle, it's time to separate the good leads from the bad. Eliminating those bad leads will give you more clarity on which marketing campaigns are working, so you're no longer wasting time and funds on ineffective campaigns, freeing you up to concentrate on those that drive the highest revenue potential.
"When you don't deliver qualified leads, sales numbers will seem low despite how many leads you're driving. So you need to know everything you can about each lead so you can disqualify them before they reach the sales team, ensuring they only get the good ones.
"So once you know which marketing channels are generating the best leads, you can focus on those campaigns and the stats that matter to create reliable data.
Pitching
"The next stage of the sales cycle is the presentation stage. This is where sales teams pitch the product or service to those qualified leads that have been passed along.
"Marketing can play a big role in this stage by providing sales teams with collateral such as presentations, one-sheets, or even video testimonials from happy customers. This type of content is social proof that helps to convince the leads that they need the product or service being offered to them.
Closing the sale
"Finally, we come to the last stage of the sales cycle: the closing stage. This is when sales teams attempt to seal the deal with potential customers.
"Marketing can assist here by providing case studies or other forms of social proof that show how your product or service has helped others in a similar situation. They can also share valuable customer data to help give sales even more fuel to close that deal, like the specific actions a lead took on your site to give an indication of their interest in specific products."
5 ways to brief the sales team on marketing campaigns
79% of marketing leads never convert into sales and this points to the lack of lead nurturing as the primary cause.
Dhruv Mehta, former Senior Digital Marketing Executive at Acquire, provided five sales-driven strategies to help you:
Safeguard the bottom line via improved sales-marketing relationships
"Online stores resort to omnichannel strategies to increase their market share and grow, But that can bring down sales for the retailers. For instance, Nike lost sales due to channel cannibalization and conflicts with the Amazon channel. So how did they regain the lost sales?


"In 2019, Nike cut down its ties with Amazon and concentrated on a direct-to-customer initiative by selling its merchandise through its store on Amazon's Seller Central.
"The conflicts between sales and marketing are common and can affect the business's bottom line. The marketing team becomes accountable whenever a marketing campaign fails to target and obtain the necessary leads. But when the company does not reach the sales target, the sales team will have to accept the responsibility for the failure.
"Instead of participating in the blame game, progressive business executives of today work to resolve conflicts between the two teams to encourage the sales and marketing teams to collaborate.
"Better communication between the two teams enables better content creation and marketing strategy. And the consumers will receive more pertinent and timely messaging from your business by incorporating the perception of both teams.
Engage in brainstorming sessions with the sales and marketing team
"Studies indicate that sales and marketing alignment are effective by 67% in closing deals, and collaborations between the two teams will help the organization achieve its goals by 47%.
An effective relationship means avoiding misalignment between the two teams is regular scheduling and holding brainstorming sessions with the two teams.

"Give the teams ample preparation time by scheduling brainstorming sessions. The session must work to eliminate the sales process gaps, discuss prospects and communicate complex topics for white papers and webinars. Within sessions, specific issues related to marketing campaigns would be complex for the sales team to understand.
"For example, explaining buyer persona and customer journey requires additional efforts from the marketing team. That's where the webinars and white papers will work to educate and eliminate misconceptions.
"Get the sales personnel to open up and communicate by asking pointed questions like- what are the prospects asking you about our product? Find out the barriers for the sales team to move prospects toward affecting sales.
"The answers to such questions will give insights to the content marketing team to improvise on content, either by writing fresh pieces or updating existing ones to better the volume of sales.
Stop at frequent intervals during meetings to ask open-ended questions
"Granted, you may be busy, but a rushed meeting with the sales and marketing team will not achieve the desired results.
"Research reveals that the attention span of an average human being is as low as 8.25 seconds. The meeting could have relevant points that could increase the number of prospective buyers through effective lead conversion. But that is if the audience listens, absorbs, and adapts accordingly.
"Although speakers have the habit of asking close-ended questions, like - have you understood, where the audience nods in affirmation, that cannot help in achieving what the meeting was scheduled to achieve; also, a keen listener may absorb but may have understood in a different perception.
"How can the speaker know that the audience listens and comprehends? One way is to present bite-sized information and ask open-ended questions at the end of each session. That will help the audience to turn into listeners or even learners.
Leverage marketing insights for more effective sales meetings
"Leveraged marketing insights help the sales team walk the first step toward a customer-centric sales approach and prepare a more informed and detailed sales presentation.
"Prospects buy products that solve their problems. For a deeper understanding of the potential needs of the prospects, the sales team should be armed with customer insights gleaned from the target market or existing clientele. The aim is to cut the sales cycle through improvisation and utilizing such data to improve customer experiences.
"Compile the data in tune with specific corporate objectives to solve prospects' pain points, streamline the product with new features, and maximize an existing target market.
"It is good to note in this context that market research cannot help as much as customer insights. Market research helps the sales team know market shifts or trends while customer insight into the reason for the change in purchase behavior.
Reach a consensus about sharing campaign insights with the sales team
"The marketing team can reach a consensus about sharing campaign insights with the sales team by acquainting itself with the client's organizational accounting structure and identifying their decision-makers and primary influencers. Teams of decision-makers or influencers make most purchases per their priorities and roles.
"Innovative suppliers develop strategies to foster agreement among various buying groups, providing the right tools and training to encourage them to interact with other decision-makers. Building account maps and importing contact information from Salesforce allows field representatives to comment remotely on or update sales and marketing procedures."
3 recommendations for effective sales and marketing alignment
Tomer Zuker, VP of Marketing at D-ID provided 3 recs for effective alignment. He said:
Teach
"Invest time and teach your salespersons the fundamentals of marketing. Teach them what marketing does and how they can make more money with tighter integration with marketing.
"And vice versa…
"Dear marketeers — attend sales reviews, join client meetings, and know the real "client journey."
"Knowing how the final stages in the funnel work in real-life, requires familiarity with a set of sales activities that seems like a "black box" for many marketeers: licensing and pricing; objections handling, payment terms, support, deployment, POCs management, legal aspects, tenders, supply chain. You name it."
Dance together
"Work closely with your sales force on Account-Based Marketing (ABM), events, campaigns, content creation, social selling, and more. You can multiply the impact of each touchpoint by leveraging insights from your sales colleagues."
Management
"Agree on mutual KPIs. By defining what is a "SQL" (Sales Qualified Lead) you can solve 80% of all problems. Set a clear and constructive work process that supports the alignment, and invest in bonding…
"On a personal note, I have based the above recommendations on my own experience as a sales manager and marketing manager (yes, I'm a two-headed monster…👹).
"Switching from Sales to Marketing and back has given me a broad perspective on the end-to-end funnel and how to mitigate internal organizational bumpers."