It's super common for marketing and sales to be misaligned.
Many organizations face huge issues getting these departments in sync. In fact, 60% of respondents to a global LinkedIn survey attributed the misalignment of these departments to damaged financial performance.
But creating synergy between these two departments can support continual innovation, collaboration, and a healthy bottom line.
In this extract from our Marketing and Sales Alignment playbook, we'll take you through some key ways to get these teams aligned.

Joint objectives/aligning KPIs
As two separate departments, marketing and sales typically use different metrics for their objectives. But getting them more closely aligned means shifting focus for both teams towards shared goals.
In a broad sense, marketing and sales both want to convert new leads into customers. But because of the way most marketing teams hand over leads to sales, this process becomes split into separate stages that the departments work on separately.
Sales are typically measured against numbers, like new accounts, closed deals, or contract renewals. Whereas marketing is measured on how many leads they produce, their quality, and the level of brand awareness. So it's no wonder these teams are so often not on the same page.
To become truly aligned, the teams need to consider this as one overall process they collaborate on.
Example KPIs

🤝
"I would say the biggest cause of misalignment of marketing and sales comes down to misalignment in their goals. If sales and marketing are incentivized differently, they will ultimately implement processes that potentially compete and/or do not support each other's goals.

"A common example of this is Marketing being incentivized on the quantity, rather than the quality of leads. While MQLs are a great leading indicator for building opportunity, pipeline, and revenue - they can also pollute the data as the quantity aspect decreases conversion rate. Many organizations (including my own) shifted towards a revenue-focused model where we focused our marketing efforts on driving X amount of opportunities for the sales team because we know that it typically takes X amount of opportunities to close a deal. By working backwards, marketing can build up a more realistic business case and both commit and deliver on a marketing-sourced revenue target for sales."

Jasmine De Guzman, Manager, Revenue Marketing, Monsido
🤝
"It's important to make sure we have a good synergy and camaraderie across marketing and sales. We need to make sure our goals and objectives are aligned with the sales team and that we are prioritizing on the right initiatives because we will never have enough resources to do everything. We cannot be throwing darts at the wall and hoping something sticks.

"And that's why it's important to make sure our OKRs are aligned with the leadership team. Having that lock step is important to have an effective go to market and this also makes sure that our time and resources are focused on the right initiatives and that we are all growing in the same direction."

Div Manickam, Author, Mentor
Integrated funnel
Both sales and marketing need access to the same information and data. So, organizations need to implement an integrated funnel that both teams can access when they need it.
But it's a bit more complex than just implementing a CRM.
The process is strategic, with those in charge creating a single view of the buying journey across the entire sales and marketing function. Only when a company has a completely integrated funnel, will true marketing and sales alignment be achieved.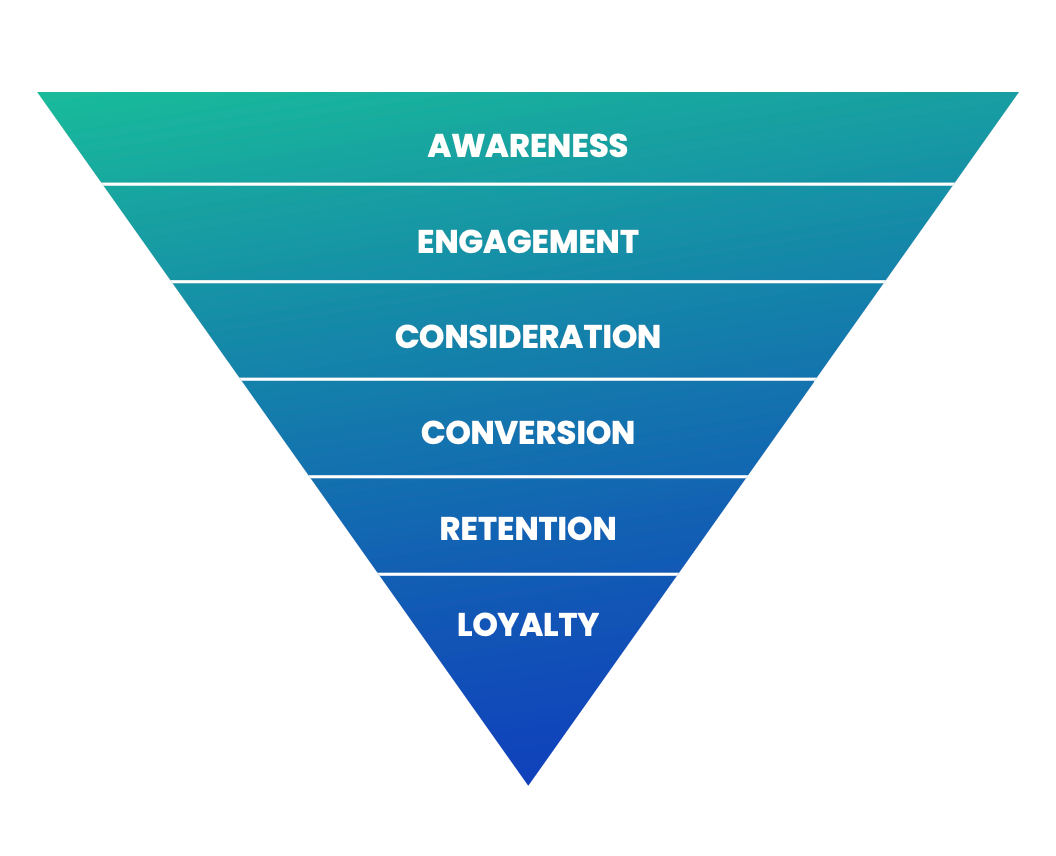 Communication
Good communication is often cited as one of, if not the most, crucial way of aligning marketing and sales teams.
🤝
"The biggest cause for marketing and sales misalignment is communication.

"We have different priorities and goals and don't see where the other team is coming from. There is very little understanding and more of the 'Let me tell you what you need to do'. No one wants to be told how to do their job. This feels like hierarchy or management overrule and less of a true collaboration. Tell us the problem and we will find creative ways to solve and win together."

Div Manickam, Author, Mentor
Joint team meetings
Frequent meetings between marketing and sales helps keep those crucial lines of communication open. These meetings should take place every week, include everyone, and cover the weekly activities of both teams, so everyone gets updated on what everyone else is doing. This way, both teams can discuss challenges, concerns, issues, and upcoming campaigns so action plans can be put in place and both teams can make improvements.
Meeting template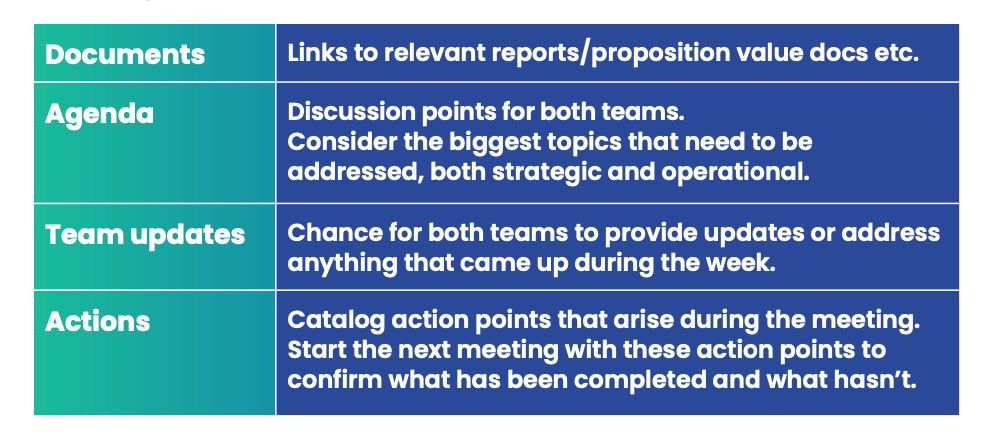 Feedback loops
A feedback loop takes results and uses them to feed into future actions. There can be both positive and negative feedback loops.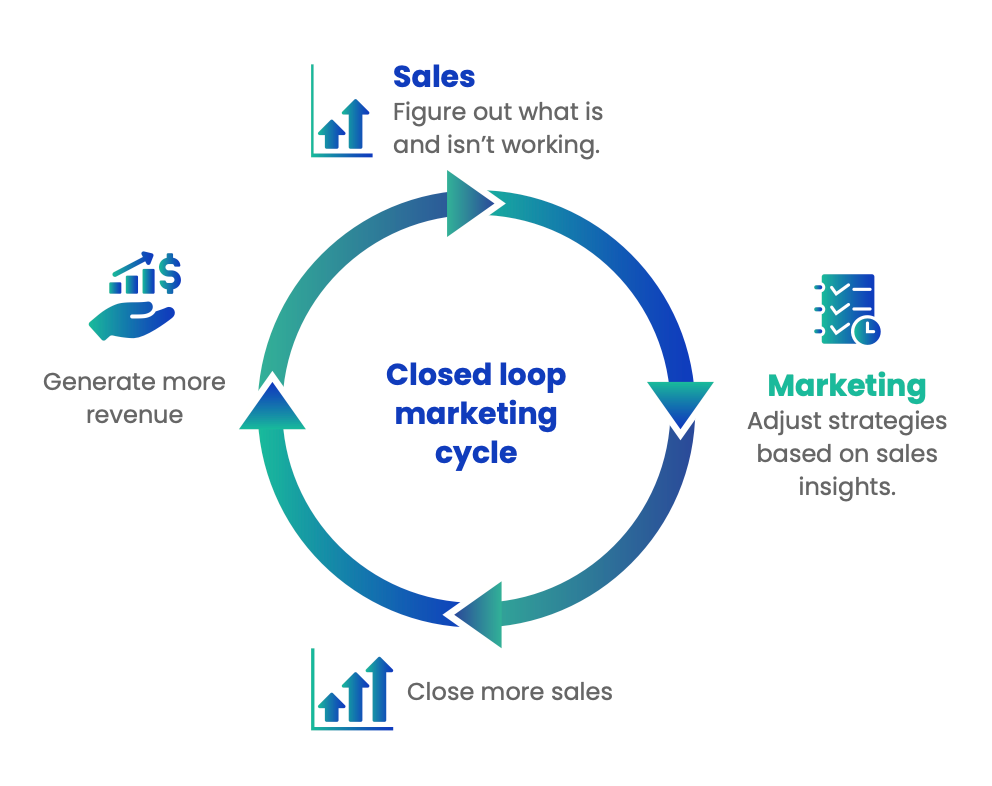 An example of a positive one would be receiving high engagement on a LinkedIn post, which leads to higher clickthrough rates to your site, leading to more conversions - so you learn that more social engagement leads to more conversions. A negative feedback loop could be a page on your site taking too long to load, leading to a high bounce rate, so you learn you need to improve load times.
But the best type of feedback comes directly from your customers. Sales work more directly with customers and will therefore play a key role in marketing feedback loops. So it's another way marketing and sales can more closely align.
By improving communication between these two teams and streamlining the marketing and sales processes, you can ensure you have a well-rounded strategy, and generate more demand for your products and services. As well as increase revenue generation by shortening your sales cycle.
🤝
"It's important to ensure marketing teams have regular feedback loops with sales and vice versa so there's no mismatch in objectives or lack of understanding of targets (both financial and audiences). A close collaboration between the teams means they are on the same page to deliver a strong sales pipeline, as well as coherent client and market communications."

Sam Shrager, Executive Director, Marketing & Communications, BCB Group
Technology
Technology can play a crucial role in improving communication between teams, especially for remote workers.
Any tech needs to be accessible to all and easily incorporated into both sales and marketing's workflows. Aside from communication platforms that enable direct messaging, other tools can provide both teams with access to real-time data so everyone can make more informed decisions about strategy and process.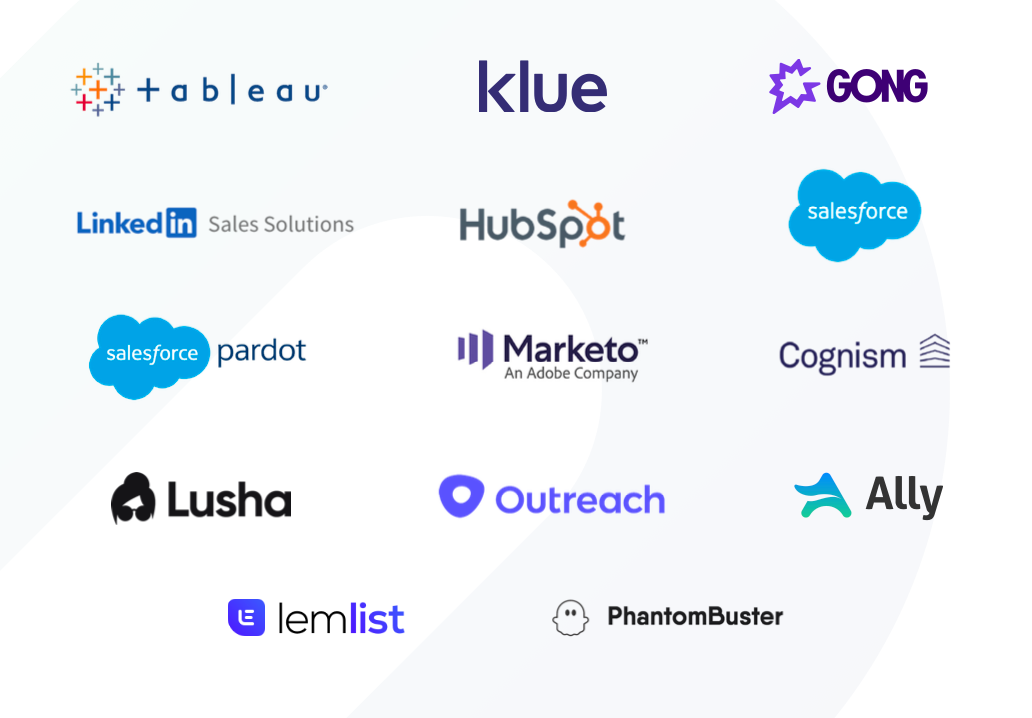 🤝
"CRM is vital - we use HubSpot to understand best performing channels, tier the quality of incoming leads, and measure ROI.

"Shared dashboards, shared regular reports generated via HubSpot are very helpful to ensure we are aligned. We also use Ally to measure KPIs across the teams which ensures an integrated approach across the teams."

Sam Shrager, Executive Director, Marketing & Communications, BCB Group
🤝
"I currently use Hubspot as a CRM to oversee the management of leads to convert into clients.

"But I also use growth marketing tools commonly with sales such as Linkedin Sales Navigator, Phantom Buster, and Lemlist. We commonly use this tech stack for lead generation purposes."

Gaël Angoula, VP Marketing, Bloomin
🤝
"We use sales engagement tools like Outreach to build our cadences/engagements/sequences to help ensure salespeople have on-brand messaging for both outbound and inbound reach out."

Jasmine De Guzman, Manager, Revenue Marketing, Monsido
Marketing and sales alignment playbook
Download the full playbook for even more insights into how to get your sales and marketing teams on the same page.

Revenue Marketing Summit
Don't forget to get your tickets to our upcoming Revenue Marketing Summit in 🗽New York on December 8 for non-stop networking, knowledge sharing, keynotes, and panel discussions.