CMO, VP of Marketing — What does your CEO really care about? 🤷
Many things.
But what doesn't she care about?
The number of leads you've created.
Why? 🤔
Because generating leads is not the goal.
Leads are, at most, a tactical — marketing indication that reflects the level of interest in your product and the effectiveness of your Top of the Funnel activities.
That's all.
Do not be blinded by the number of leads and better not present the lead data to your CEO.
Leads are not a reliable KPI for businesses, and focusing on them does not contribute to the positioning of the marketing department within the organization.
So what should be done?
The main goal should be to create Sales Qualified Leads (SQL) that will be converted into sales opportunities.
Such a goal indicates the extent of the impact on the demand curve, which is the main mission of the marketing department. 🎯
All the other things, important and necessary as they may be (and make no mistake — they are necessary!), are only a means to an end:
Brand building is not the goal
The goal is to attract new customers (= money) and retain existing customers (= money) through effective branding. Particularly strong brands can reduce advertising expenses (= money).
Raising awareness is not the goal
and neither is the number of views, clicks, followers, likes, and comments. The goal is to translate all of these into transactions that increase the organization's revenue.
Great content
Blogs, videos, clever micro-copy, brilliant SEO and ingenious, award-winning promotional content do not suffice unless they deliver the goods. These too are not the target.
And frankly, it is not enough to measure the volume or value of the SQL.
The marketing organization needs to be bold and confident enough to measure its success based on the rate of conversion from SQL to transactions that bring real money to the organization. Yes, Wins, I'm talking to you…
Why? 🤔
📌 Focusing on such a goal makes marketing a profit center.
📌 It creates full synchronization between the marketing department and the sales/growth department.
📌 It reduces internal frictions that divert the organization's energy inward instead of outward.
This is the only way to fulfill the true mission of marketing.
Be brave.
About the author
Tomer has more than 20 years of experience helping global technology corporations grow in regional and global markets.
His track record extends to multiple disciplines, including marketing, sales, and partnerships. Tomer is proficient in planning, implementing, and overseeing effective demand generation, product marketing, partner marketing, field marketing, and integrated sales and marketing practices.
Tomer has an MBA in marketing from The College of Management Academic Studies (COMAS) and a B.A. in Business with a specialization in marketing, advertising, and information system management from The College of Management Academic Studies (COMAS).
He previously held the position of Senior Marketing at Amazon Web Services (NASDAQ: AMZN), Business Group Lead at Microsoft (NASDAQ: MSFT), and a Business Unit Lead at IBM (NYSE: IBM).
You can find him lecturing on B2B marketing, branding, and social selling, serving as a marketing mentor for early-stage startups.
B2B Marketing Festival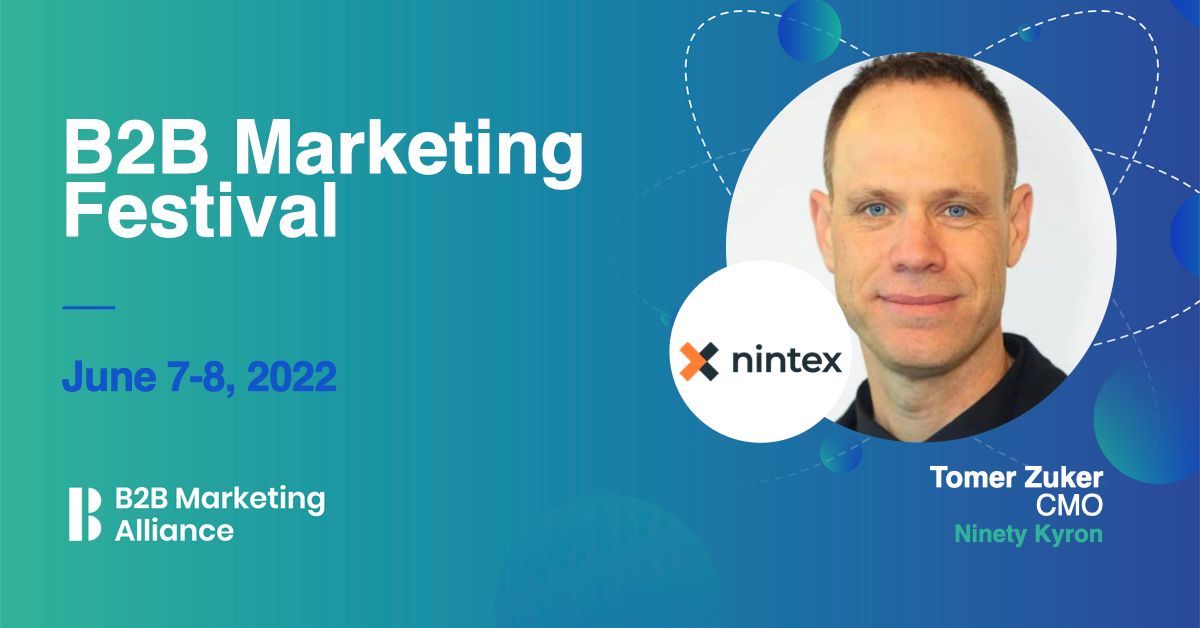 Interested to hear more from Tomer? He spoke at our B2B Marketing Festival! Catch up on his talk here.
With thought-provoking content from a wealth of expert speakers, the festival was a jam-packed two-day event that discussed:
How to build a better brand with storytelling
How to unlock greater value from marketing technologies
Creating customized personal experiences at scale
Driving brand loyalty
Marketing in an ever-changing market
Using gamification to increase customer retention
What's next in CX?
Strengthening the relationship between sales and marketing
Tomer spoke at the Winning the Battle Between Marketing and Sales panel, alongside Gaël Angoula, Div Manickam, and Sam Shrager.