We had the privilege of connecting with Aristomenis Capogeannis, a prominent figure in the world of marketing, who recently returned from his engaging participation in the Revenue Marketing Summit held in the vibrant city of Las Vegas.
As the Senior Director of Enterprise Revenue Marketing at NVIDIA, Ari's wealth of knowledge and expertise in the field made him an invaluable contributor both as a distinguished speaker and an eager attendee.
Join us as we unravel:
Ari's motivations for speaking at the summit
His highlights from being a speaker
Main insights from Ari's talk
Ari's highlights from being an attendee
Whether he'd recommend being a speaker
🌟
Hey, guess what? We'll be heading to San Francisco in September for the exciting Revenue Marketing Summit. Are you ready for a fantastic blend of networking, valuable insights, and fruitful collaboration?
Get your copy of the brochure
for the full details.
Ari's motivations for speaking at the Revenue Marketing Summit, Las Vegas
In-person events are back and better than ever. This is something that Ari discovered at the Revenue Marketing Summit. As a revenue marketer himself, he knew it was a match made in heaven. 👼
"I haven't had a lot of opportunities to engage in person at events because of the COVID lockdown period as well as budget constraints for travel while the industry was figuring out the post-COVID era.
"The event titling matches exactly what I do, and having the opportunity to share ideas with like-minded individuals compelled me to engage with this one."
Ari's highlights from being a speaker at the Revenue Marketing Summit, Las Vegas
Following challenging years without the possibility of in-person events, the value of collaboration and communication with peers has become all the more evident and invaluable.
"Having an open discussion with individuals sharing the same challenges and examples of how each is overcoming their obstacles was on point for me. It makes speaking to the topic so much more fluid."
Main insights from Ari's talk
There was a lot to take away from Ari's presentation, but what does he consider to be the key insight? Well…
"The need for data and alignment are more than cliche phrases. They are avenues that require constant work."
Catch up on all presentations, including Ari's talk, from the Revenue Marketing Summit in Las Vegas with our OnDemand feature. 👇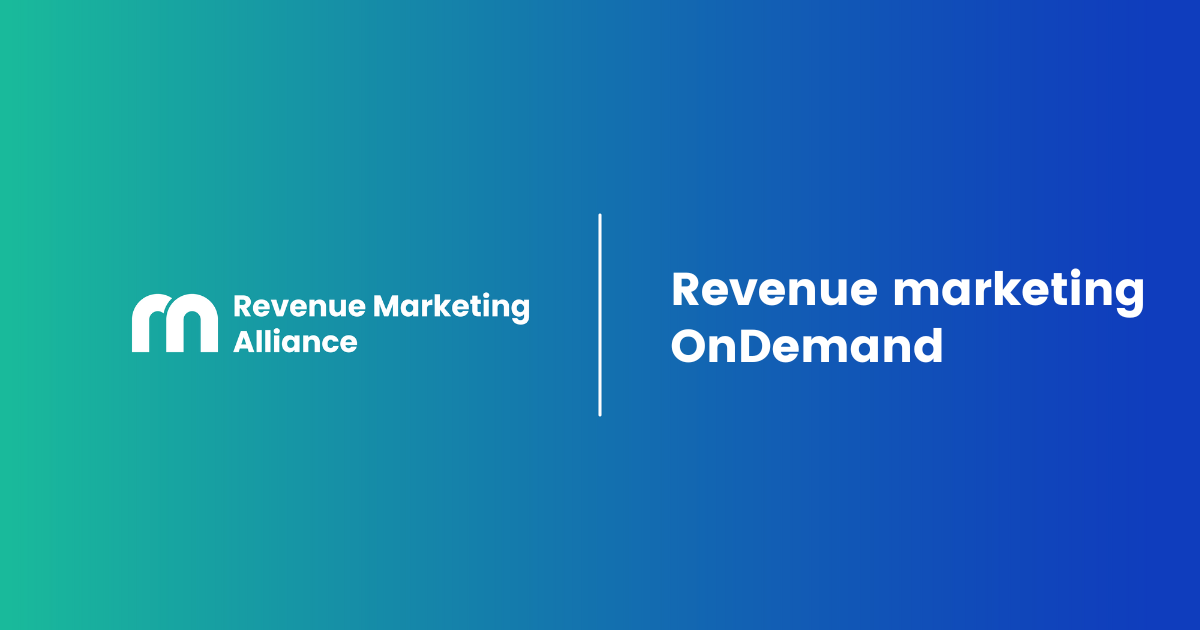 Ari's highlights from the event
Being a speaker doesn't stop you from attending the talks and getting as much value from the experience as possible! Don't worry - you get all the perks!
"I caught all the Revenue Marketing Summit talks. There was quite a wide variety of topic focus areas that kept the event interesting."
Whether Ari would recommend being a speaker at our events
Don't worry, Ari - there's plenty to go around! 😉
"Yes, as long as it doesn't take away from my future opportunities to speak. Ha!"
A little more about Ari
A strategic visionary backed by years of experience in leading hi-tech hi-growth companies, from startup to enterprise in semiconductors, financial SaaS, robotic process automation, data center, and AI.
His focus is to look beyond "ABM" as a buzzword and move towards actionable Person-Based Marketing, or "PBM". Aristomenis is passionate about optimizing today's digital experiences via custom solutions and 3rd party revenue technology.
His cross-functional experience and passion blend into a go-to-market approach that successfully addresses organizational pain points with full-suite Digital Marketing teams. He believes in driving customer value by identifying and aligning around sales opportunities.
Wanna attend a Summit?
Whether you're looking to be a speaker or attendee (or both!) we've got plenty of Summits coming your way.
Just follow the links for more information…