Slack Newsletter | Revenue Marketing Alliance
This week at the Revenue Marketing Alliance, September 29, 2023.

🤝 Ambassador program 🤝

Ready to elevate your personal brand in revenue marketing? ⭐

This is your chance.

🚀 Become one of our driving forces in the Revenue Marketing Alliance to grow your network, express your views on revenue marketing, and become an industry leader.

The Revenue Marketing Alliance ambassador program has something for everyone, from writing blogs, to hosting meetups. 💡

Applications are still open…

👉 Apply here to register your interest

Applications close October 18!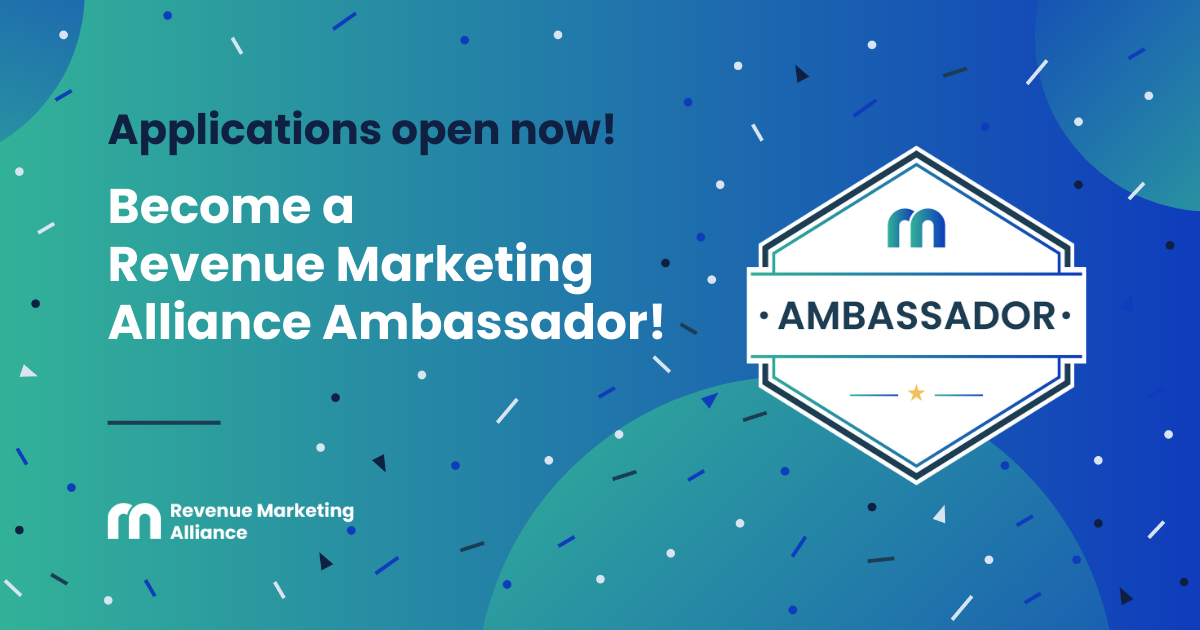 ---
💚 Love Revenue Marketing Alliance? 💚

You're the heart and soul of our community.

We'd love to hear from you.👇

Leave us a review and tell us why you love being a part of RMA.
---
🔥 Hot off the press 🔥
🔥 Field marketing: Why face to face events are still irreplaceable in building customer relationships
Nothing beats face time! 🤝
While digital connection has its place, research shows there's still no substitute for in-person events when it comes to building strong, lasting customer relationships. 🧡
Our latest article by Maud David explores why physical events continue to be irreplaceable, even in our digital world. From fostering trust through body language cues to creating bonding experiences, discover the unique benefits of getting together IRL. 👥
---
🔥 How to align marketing and sales in your business
Stop working in silos! ❌

Read our latest article to learn proven tips for integrating marketing and sales to drive growth. You'll discover expert tips for seamless collaboration, shared metrics, and more.

---
⭐️ Member quote of the week ⭐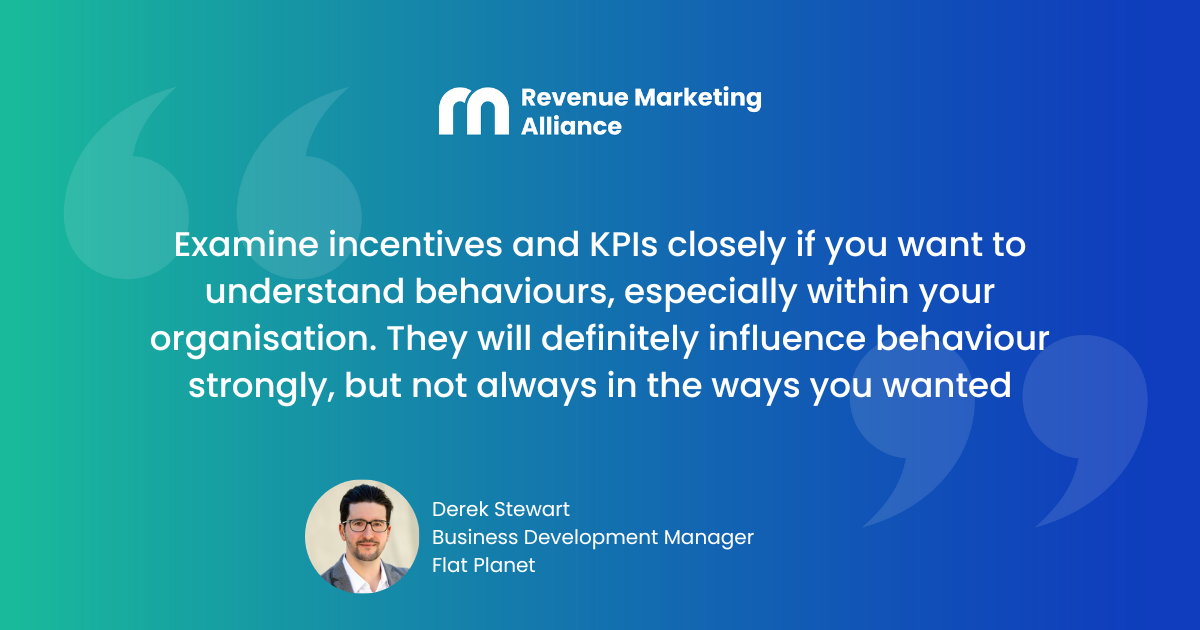 ---
🗓 Upcoming events 🗓
We're hosting our very first APAC-friendly webinar series!
The first session: Harnessing the Power of ChatGPT for Efficient SEO and Google Ads Optimization💡
Where and when? 👇
📅 Date: October 5, 2302
⏰ Time: 6pm AEDT
💻 Location: Online!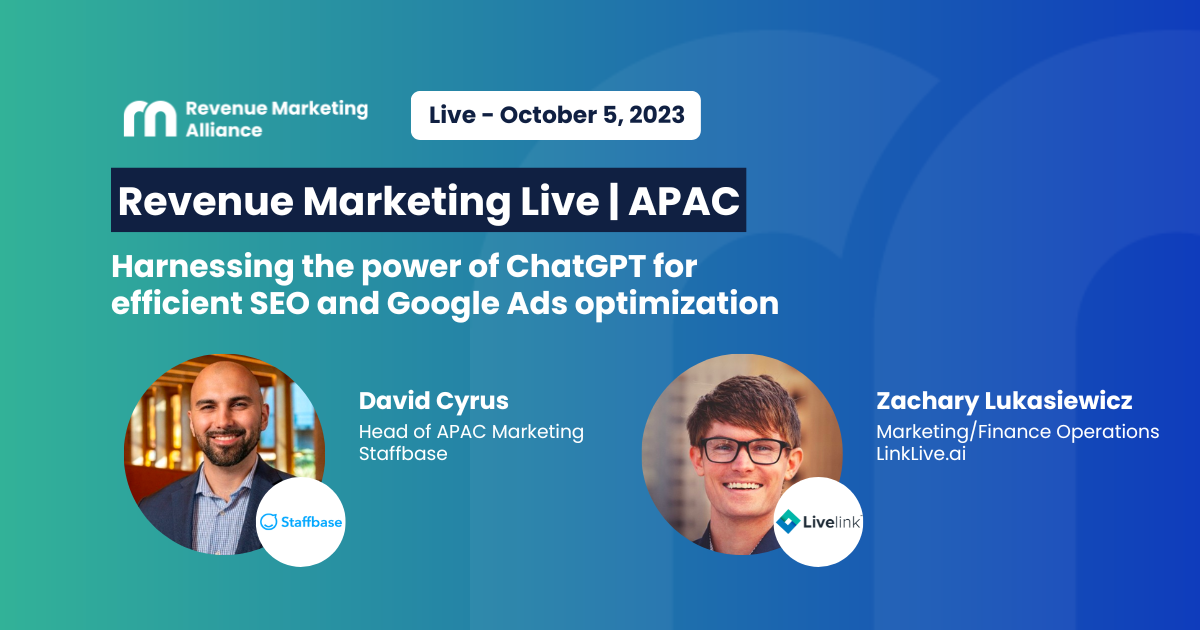 ---
The second session is not far away either 😉
Navigating beyond translation to achieve authentic localization and meaningful audience engagement 💡
Register for the second session HERE!
📅 Date: October 12, 2302
⏰ Time: 6pm AEDT
💻 Location: Online!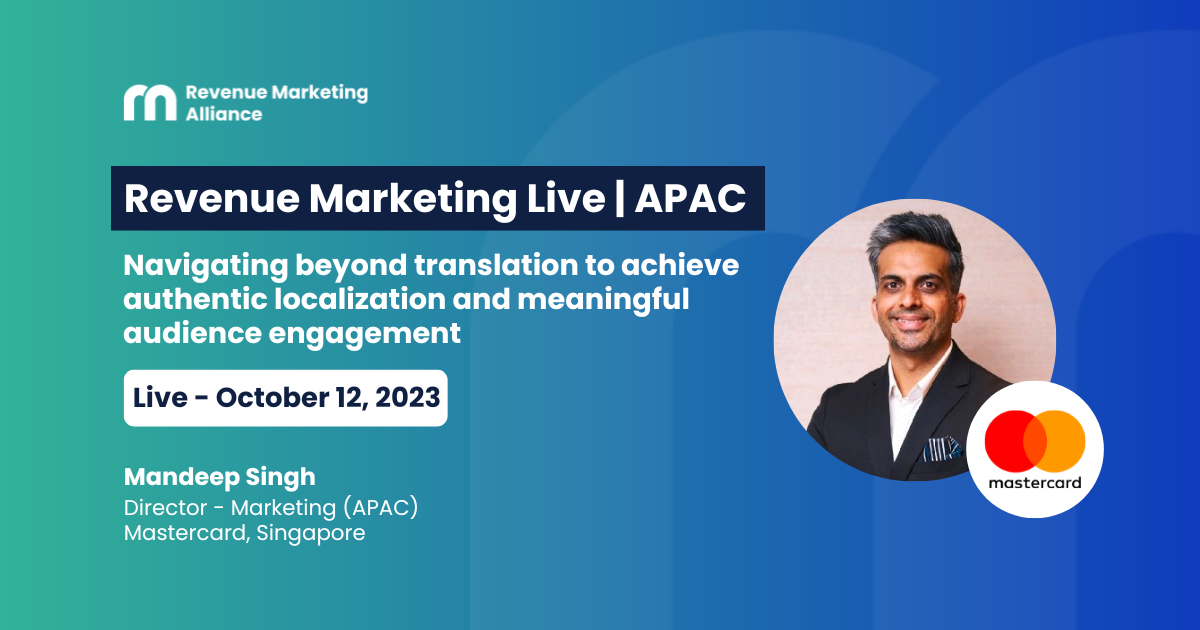 ---

Look out, Brisbane, we're headed your way! The Revenue Marketing Alliance is having its first Brisbane meetup on 5 October at 4 pm AEST 🎉

Please save the date and join us for the meetup where we'll have an interactive discussion around 'Balancing Brand and Lead Gen', and then have the chance to socialize and enjoy some drinks. 🍻 🇦🇺
RSVP HERE!

Where and when? 👇

📅 Date: 5 October 2023
⏰ Time: 4 pm AEST
🗺️ Location: Royal International Convention Centre, 600 Gregory Terrace, Bowen Hills QLD


---
We're ecstatic to be bringing Revenue Marketing Summit to London, November 29-30.

That means:
⚡️ 100+ attendees
⚡️ 30+ expert revenue marketing leaders
⚡️ 1 unmissable event
Join us in London and walk away with some of the world's most forward-thinking strategies to implement in your organization and advance your career!

🇬🇧Revenue Marketing Summit London
November 29 & 30
London, UK
Brochure | Tickets
---
Want to speak at an upcoming Summit or Event? Contact @Caitlin Beer or request to speak here. 💡
---
⭐️ Membership ⭐️

Are you tired of sifting through countless resources to stay on top of the latest marketing trends? 🧐
It's a good thing Pro+ membership has just made its grand entrance. 🤩

Combining both in-depth training and just-in-time learning, the Pro+ bundle includes everything you need to upskill in the short and long term.
Here's what a Pro+ member can get their hands on:
Pro Membership ($299).
A free ticket to an in-person Summit of your choice ($1,295).
Revenue Marketing Certified: Core ($1,299).
All Masters courses (coming soon).
All of this, and more, at just $1,999. 🥳
---
💬 Talking points 💬

Check out the hot topics this week in our #rma-questions channel!
💬 According to a survey by Demand Metric, 78% of successful marketers say that marketing automation is the key contributor to their revenue growth. How has marketing automation helped your team streamline processes and contribute to revenue growth?
💬 How do you balance quality vs quantity when it comes to leads?

Have a question in mind? Make sure to ask it in our #rma-questions channel!
---
✏️ Two-day in-person core courses

This year, we're taking Product Marketing Certified: Core live and in-person to:
🇺🇸 Denver: October 4-5
🇮🇪 Dublin: October 25-26
🇺🇸 Atlanta: November 15-16
🇺🇸 Seattle: December 6-7
If you wanna get certified IRL, by an expert in resident, with 25 fellow PMMs, this is your sign.
---
👋 Content opportunities

Would you like to appear on an episode of our upcoming podcast?
🎙 Just contact Charley Gale to find out more or put your request in here.
---