AMA | Ilias Tsatalmpasidis, Superscript
Ask me anything!
Get your question answered by Ilias Tsatalmpasidis, Head of Growth at Superscript!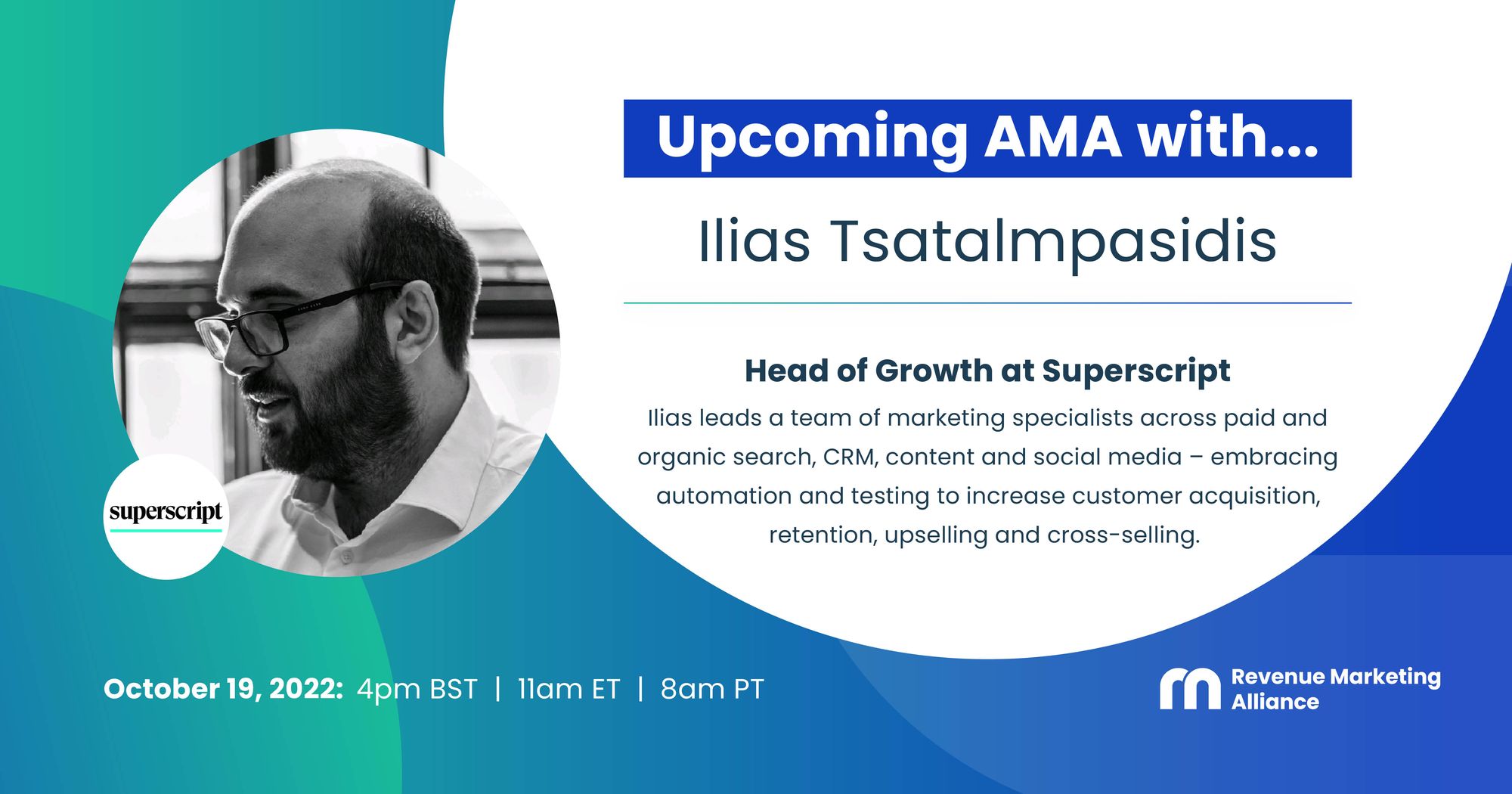 👥 How?
Submit your questions below by October 16th with the choice to have your name read with it or to keep it anonymous.
Join the Revenue Marketing Alliance Slack channel if you haven't already: here
Once you're in the Slack community, join the #rma-ama channel.  
If you don't see the channel, search for it by using the main search bar at the top, then join.
⏰ When?
October 19th, 4pm BST | 11am ET | 8am PT
🌍 Where?
Virtual
Slack: Revenue Marketing Alliance Slack community
Channel: #rma-ama
💡About our host: Ilias Tsatalmpasidis
Ilias Tsatalmpasidis is Head of Growth at Superscript, an insurtech that offers flexible cover and a unique monthly subscription. As well as supporting over 1,000 types of small business with an online quote and bind experience, Superscript offers a dedicated brokerage service for innovative businesses in industries such as cyber security, digital assets and IoT.

Ilias' mission is to establish Superscript in the UK, the Netherlands and beyond by focusing on net growth of customers. He leads a team of marketing specialists across paid and organic search, CRM, content and social media – embracing automation and testing to increase customer acquisition, retention, upselling and cross-selling.

Ilias' work has been recognised with the award for Best Use of YouTube for Performance Marketing and the Digital Marketing Award at the Chartered Institute of Marketing (CIM) Excellence Awards.
🎤 Submit your questions
And finally...
A massive thank you in advance to Ilias!